A Doctor's Downfall
By Li Goldstein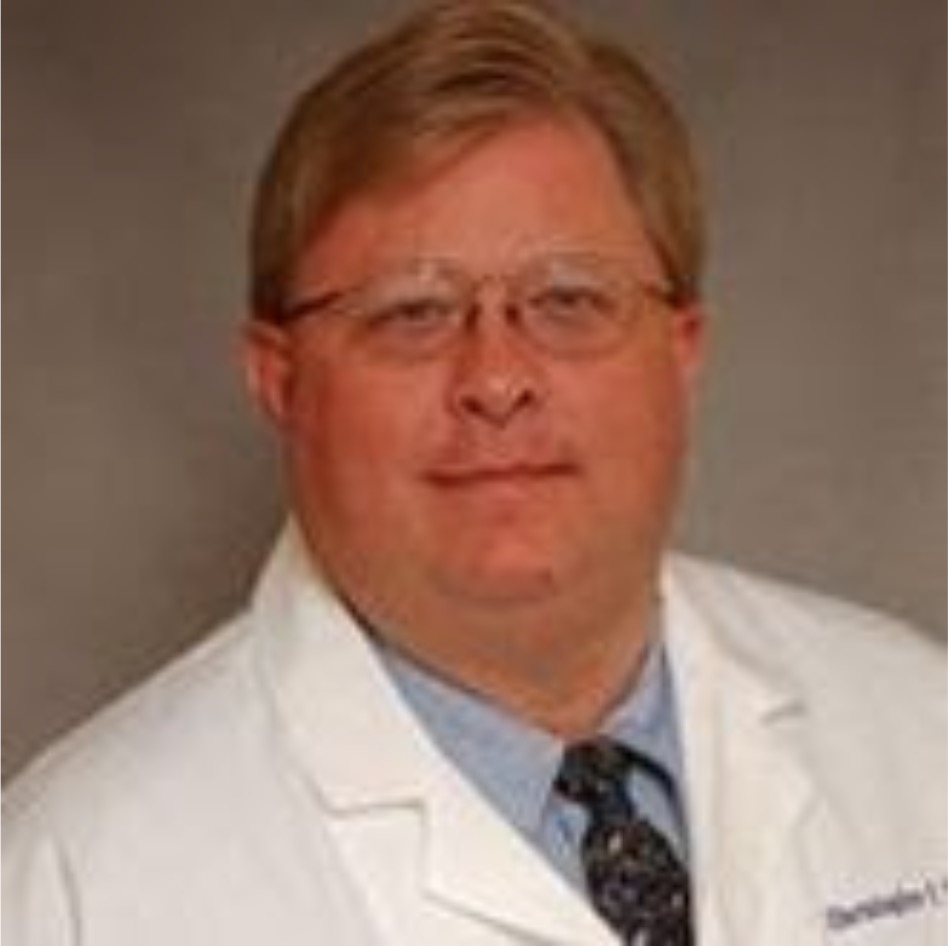 A photo of Dr. Christopher Huntington published with his obituary in the Wilmington (Del.) News Journal
At around 4:30 on March 8, 2013, Dr. Christopher Huntington, a Providence orthopedic surgeon, was driving home when he called his lawyer, Dennis McCarten.

McCarten had been trying to reach Huntington to inform him that the state's Board of Medical Licensure and Discipline had just suspended his license for overprescribing opioids. It was a summary suspension, and on a Friday, no less.

As the courts closed and judges retreated home at the end of the work week, Huntington and his lawyer wouldn't even be able to appeal to the Superior Court for a temporary restraining order on the suspension's enforcement.

While McCarten was calling his office to catch him before the end of the work day, Huntington had been on the phone with his 12-year-old daughter, who had called her father in tears. A sheriff had just shown up at their house on Benefit Street and handed her papers with notice of the license suspension.

The task of defending Huntington had fallen into McCarten's hands barely a week prior. Huntington's malpractice attorney, Seth Bowerman, was out of the office battling a brain tumor and McCarten, who had worked at the same firm until 2003 before ceasing to practice on a regular basis, had agreed to temporarily take over his former colleague's post.

His only task, now, was relaying the bad news to Huntington.

"Will this be in the paper?," Huntington asked McCarten.

In all likelihood, he told him, it would.

"I'm finished," Huntington said.

McCarten tried to console his client. They would fight to get the decision reversed. He'd seen other doctors in the same mess get their licenses back, he reassured Huntington.

Huntington repeated: "I'm finished."

McCarten was heading out to dinner. That Friday night, like most Friday nights, he planned to meet a friend at a nearby Providence restaurant, either Al Forno or Chez Pascal. But he told the doctor he'd be available any time if he wanted to call back and talk things over.

That evening, Huntington drove to a nearby Walmart, bought a stepladder and rope, then returned to his office on West Exchange Street and hanged himself from a pipe in the ceiling. He was pronounced dead at 7:30 p.m. An autopsy confirmed suicide as the cause of his death. He was 50 years old.
+++
As an unprecedented number of Rhode Islanders fell victim to a deadly opioid epidemic between 2011 and 2013, Huntington prescribed thousands of tablets of potent narcotics in high dosages to a small number of patients, a number of whom shared home addresses, according to documents McCarten was given by Rhode Island's Board of Medical Licensure and Discipline (BMLD).

Locked out of his own checking account by a Family Court-appointed master overseeing his finances, Huntington was subsidizing repairs to his 5 bedroom, 5 bathroom home at 418 Benefit Street by prescribing opioids to the remodelers as under the table compensation, according to his divorce lawyer, William J. Balkun.

According to his bankruptcy filing, he and his ex-wife had bought their Benefit Street property, which sits between Transit and Sheldon Streets, for $1,025,000 in 2007, in part through a loan from Webster Bank of $820,000.

"He exploited the fact that people were addicted to opioids," Balkun said in a recent interview.

McCarten had his own suspicions that Huntington was caught up in a criminal enterprise, when looking at his prescribing patterns in the context of his dire financial situation.

At the time, "I wondered if he got into some sort of unholy alliance with some bad people," McCarten said.

In January 2013, a pharmacist working at a CVS in Central Falls had submitted a complaint to the BMLD about Huntington's suspicious tendency to prescribe early refills of Oxycodone to one patient.

A month later, a pharmacist at a CVS in Johnston noticed a similarly concerning pattern, prompting a Prescription Drug Monitoring Program (PDMP) review that preceded his ultimate suspension.

According to his summary suspension, the PDMP review found that Huntington had prescribed that one patient — a 55 year old man, Patient A — "should take a certain number of Oxycodone Hydrochloride 30 milligrams over a 372 day period," but "authorized an amount to be dispensed that would be equivalent to 565 days of this narcotic if the patient were to follow that same daily dosage," for a total of 6,720 tablets.

In that same 372 day period, he prescribed the same patient another 480 tablets of Oxycodone IR for a 50 day supply. In that time, the patient filled prescriptions at eight different pharmacies.

At one point, with Huntington's prescriptions in hand, this patient was able to obtain 720 tablets in a four day period.

Within the same time frame, one 41-year-old woman was prescribed an initial dose of Oxycodone IR that was triple the recommended dose, and an 80-year-old man was prescribed double the recommended dose. They each shared an address with Patient A.

Huntington prescribed yet another pair of patients "nearly identical high-dose opioid therapy with narcotic agents" over the same period. Methadone, OxyContin and Oxycodone IR, simultaneously. The two patients, a 53-year-old woman and a 58-year-old man, also resided together.

He was deemed an immediate threat to the public by the Board of Medical Licensure and Discipline.

But Huntington was no stranger to the BMLD. He'd been on their radar for most of his professional career.

And like many who crossed paths with Huntington even briefly, McCarten understood that his prescribing troubles were only the tip of the iceberg.
+++
Behind the scenes, Huntington's personal and professional life had been unraveling for a decade. Nearly every year from 2003 to 2013 was punctuated by legal battles, both personal and professional, according to filings in the Rhode Island Family and Superior Courts and U.S. Bankruptcy Court.

A bitter divorce in the Family Court and a fight for custody of his daughter and son.

A slew of malpractice suits filed against him in the Superior Court by patients living with debilitating injuries from his surgeries.

Mounting debt exceeding $3 million that drove Huntington to bankruptcy in December 2008 — even though he would boast at one court hearing that he could make $600,000 in 64 days.

"But it seemed that only Christopher Huntington was acquainted with all of his demons," McCarten speculated in a narrative account of his short relationship with Huntington, which he wrote for himself in the aftermath of Huntington's suicide to privately cope with the trauma.

"The crises of his life were so disparate and compartmentalized that each burden was only shared with one or two people," he wrote. "I met only the demon that drove him to write prescriptions for narcotics in large doses and in large amounts."
+++
Those who knew Huntington well knew him as a fiercely devoted father and a quick thinker who liked to work with his hands. Six foot two and well over two hundred pounds, he had an unmistakable, boisterous presence. He was intellectually curious, and socially engaged.

From his days-long relationship with Huntington, McCarten knew him as "smart, affable and conversational."

"He had this confidence and charm and happiness and joy that was really infectious," said Huntington's best friend, Erik Frick, a lawyer from Duxbury, Massachusetts.

Frick and Huntington met as undergraduates at the University of Pennsylvania, where they were roommates. At Penn, according to his obituary, Huntington minored in Fine Arts.

Even in college, Frick remembers, Huntington was always working with his hands.

Once, Frick questioned why Huntington was transporting pieces of wood and tools into the dorm, using the laundry carts provided by the school. He later revealed that he was building a fully functional bar, complete with shellac and leather.

According to his obituary, Huntington played the cello and was passionate about American history, furniture, photography, architecture, and whaling in New Bedford and Nantucket. He had inherited a home in Nantucket from family, according to Balkun, but later sold it because he hadn't been paying taxes on it.

He was larger than life, confident and fearless. A risk-taker.

His ego was larger than life, too.

"Christopher lived larger than he was," Balkun said. He and his ex-wife, Cheri Huntington, led a lavish lifestyle beyond their means, even when steady revenue from Huntington's practice and royalty checks for a patented spine surgery tool should have provided a comfortable cushion, Balkun asserted.

More often than not, first-class trips to Paris and Miami, where he and Cheri would drop $10,000 in one weekend, took precedence over paying bills, taxes, even tuition payments for their children at the private school they attended on the East Side of Providence, Balkun said.

Cheri contends that her former husband managed their personal finances alone and she was under the impression that his salary supported their lifestyle. In a recent phone interview, she said that their travel together consisted mostly of trips for his work and visiting friends throughout New England on the weekends, and that the excursions were not extravagant.

Expensive liquor and cases of fine wine filled their Benefit Street home and Huntington's office. According to an affidavit filed in Family Court, Huntington often held parties at his medical office where wine flowed freely. A deliveryman who arrived at the office one day told a woman who had gone there that he had "recently returned from France and got a French Bordeaux for Dr. Huntington" worth $8,000.

At the time of his death, according to probate records, 24 cases of wine of unknown value were listed among his assets.

On top of his yearly income, which he reported as $270,000 before taxes in a May 2009 statement of assets filed with the Family Court — four years before his death — Huntington received hefty profit from a clinical advisor agreement with NuVasive, Inc., a company which produces medical devices for spine surgeries and which provided him quarterly royalties and consulting fees beginning in 2005.

According to his bankruptcy filing, such quarterly payments sometimes exceeded $25,000 and would eventually be deemed a marital asset, a portion of which would be paid to his wife as alimony in the wake of their divorce.

Still, he steadily fell behind on payments to his creditors over the years — late or missing rent payments on the commercial lease for his practice, dues unpaid to the Agawam Hunt, a country club in East Providence, unpaid premiums on his life insurance and malpractice insurance, unpaid tuition to his childrens' private school.

The commercial landlord for his office, Omni-Combined W.E. LLC, repeatedly hounded Huntington for unpaid rent, filing complaints against him in the state District Court on at least eight separate occasions.

"They had a law firm on retainer, basically, to keep suing Christopher every time he fell behind," Balkun said.

By September 2012, a judgment was entered against him for upwards of $400,000, for possession and damages.

"He had reckless disregard for the consequences," Balkun said. "And he was smart enough to escape the consequences repeatedly."

But even after filing for Chapter 7 bankruptcy in December 2008 he was found to have misrepresented his finances to the court, and his case was dismissed in 2012 without excusing his debt of over $3 million.

According to the claims register from his bankruptcy filing, Huntington owed the state and federal governments over $53,000 in unpaid income taxes from 2006 and 2007, and over $270,000 in withholding tax.

He owed $888,579 to Webster Bank for mortgage payments on his Benefit Street house, which had accrued interest since 2007.

He owed $164,7557 to his ex-wife in the wake of their divorce and marriage settlement agreement.

And he owed more than $5,000 in credit card debt, to American Express and HSBC.

In January 2010, the court-appointed trustee overseeing his bankruptcy filing, Lisa Geremia, filed an adversarial complaint alleging that Huntington had withheld information from the court under oath about his finances, sources of income and assets, and asked the court to deny Huntington a discharge of his debts.

Throughout his battles in court, and even after his divorce was finalized in 2009, three different masters were appointed by the Family Court to oversee Huntington's finances, approve his spending and see that his bills were paid. Even Balkun filed to withdraw as his counsel, albeit unsuccessfully, claiming Huntington had failed to pay his bills for representing him in his divorce.

But even in the stranglehold of a special master limiting his direct access to his own checking account, Huntington always felt somewhat immune to his dire financial situation, said Balkun.

"Christopher would remark that his family's line was traceable back to the Mayflower," Balkun said. "Well God bless him but it didn't put food on the table and it didn't make him any better of a surgeon."
+++
Christopher Huntington was raised for success. The son of a doctor, he was born in 1962 in Wilmington, Delaware, where he attended a small private school, the Tatnall School. His obituary noted that the first president of the US Continental Congress was among his ancestors.

In 1979, he was named a National Merit Scholar and graduated high school early to attend the Freshman Honors program at the University of Delaware, before attending the University of Pennsylvania.

But after graduating from Jefferson Medical College in Philadelphia in 1990, Huntington struggled to pass his board certification exam, which took him numerous tries, according to McCarten.

Professionally, Huntington's practices came under scrutiny year after year, and his reputation as a surgeon was challenged repeatedly after a number of adverse and even fatal outcomes from his procedures.

Huntington, who was a sole practitioner and the founder of the Musculoskeletal Institute in Providence, had privileges to operate at Roger Williams Hospital and St. Joseph's Hospital.

He first founded the Orthopedic Institute on Chalkstone Avenue in Providence in 1999, according to court filings. But unpaid rent to the landlord of that property forced him to move offices and reconstitute his business as the Musculoskeletal Institute on West Exchange Street, where he maintained his practice until the day of his death — despite its corporate charter being revoked in 2009 for failure to file an annual report, according to court filings.

He first encountered the Board of Medical Licensure and Discipline in 2003, when his surgical judgment resulted in the death of a 35-year-old patient.

The patient lost nine liters of blood during a cervical decompression performed at Roger Williams Hospital, leading to her ultimate death. An autopsy later revealed a laceration of the right vertebral artery, and a peer review evaluation of Huntington concluded that Huntington had demonstrated poor medical judgment.

In the wake of the event, the BMLD mandated that Huntington undertake remedial education and ordered that he solicit a second opinion on future spinal surgeries.

In 2004, Huntington once again caught the attention of the BMLD after "an excessive number of adverse surgical clinical events on spine cases performed," according to his disciplinary record. One 47-year-old patient emerged from spinal fusion surgery as a paraplegic.

In 2012, the BMLD served a compliance order on Huntington after discovering that he was practicing on an expired license which also had a "tax block" on it, requiring him to "engage in a tax agreement with the R.I. Department of Taxation."

"He was a profoundly troubled man," said Bruce McIntyre, who prosecuted the case against Huntington on behalf of the BMLD.

Over the course of his career, there were seven malpractice suits filed against Huntington, and later, his estate in Rhode Island Superior Court. Two more were filed out of time as claims in the Providence Probate Court after his death.

In one case, a woman from Greenville alleged that Huntington operated on the wrong level of her spine, causing serious complications.

A male patient from Attleboro, Massachusetts alleged that Huntington's "improper and negligent hardware placement" in his spine had required corrective surgery by another physician and had caused preventable back pain injuries.

Another alleged that Huntington had performed arthroscopic surgery and had failed to disclose to the patient that his surgical instrument had broken during the procedure and remained lodged in the patient's left shoulder.
+++
Paralleling his battles with former patients and irate creditors was his own personal legal battle with his wife, Cheri Huntington, who first filed for divorce in November 2006, and then, after a reconciliation, re-filed to end their marriage in April 2008.

Their shared home on Benefit Street, a historic property in one of the most expensive neighborhoods in Providence, was the shining emblem of their ostentatious lifestyle. The shower in the master bathroom of the house, Balkun remembered, could fit 10 people in it.

"Everything was outsized," he said.

In one photo, Balkun recalled, Cheri was pictured in their backyard at the bottom of an ice sculpture with a channel carved into it, through which alcohol would course from the top of the sculpture and down into the recipient's mouth. "It's complete excess," Balkun said. He said he still has the photo.

Family Court Judge Howard I. Lipsey, now deceased, ultimately awarded Dr. Huntington full custody of their two minor children, who would live with him up until the time of his death. Lipsey ruled that Cheri was unfit to care for her children after a psychological evaluation, which he ordered upon learning that she had taken the children out of Rhode Island and moved to Florida, where she attempted to secretly enroll them in school.

Cheri Huntington said in a recent interview that she does not think she did anything wrong in moving her children to Florida. After taking them to Florida for a vacation to visit her parents — which the Family Court had approved — she said she received notice from the childrens' school in Providence that they would not be welcome to return on account of unpaid tuition, as well as an email from Huntington detailing lapsed payments on their mortgage and the repossession of their car.

"From a security standpoint with two children, I was concerned about coming back north in January with no car, no school, and I was living in a stable environment," she said.

Nonetheless, upon her return to Rhode Island, ordered by Judge Lipsey, she was arrested and spent eight days in the Adult Correctional Institutions.

While the divorce was pending, Cheri claimed in court papers that Huntington had abused her, physically and sexually, had had affairs with his medical receptionist and other women, and had let his finances derail their marriage, harming her and their children.

But after presiding over the Huntingtons' divorce trial in August 2009, Judge Lipsey found, in weighing Cheri's psychological evaluation, her emotional volatility and her inconsistent testimony against her husband, that Christopher Huntington was more capable of caring for the couple's children and would be the best custodial parent.

"The Court finds the father has done everything that could be done to help these children after an experience that was a horrible experience as was testified to in Florida," Lipsey wrote. "The fact that the children recovered from this experience so fast is because of the father."

"He was a fabulous father," Balkun said, someone who was "immensely tuned into his kids" and their needs amidst the chaos of his divorce and custody battle.

Though Huntington had a "big booming voice" and a large presence, he was remarkably gentle with his children, and never once lost his patience with them, Balkun said. "He had a peacefulness with them; he had a calming way with them."

When the court coordinated with Florida law enforcement to retrieve the children from their mother, Balkun remembered, Huntington "was very concerned not to make a scene" in order to protect the children in a potentially traumatic situation.

The Huntingtons' divorce did not mark the end of an ongoing adversarial relationship between the two parties.

Cheri repeatedly filed complaints and motions in the Family Court to adjudge Huntington in contempt for violating the terms of their divorce. She alleged that he wasn't paying court-ordered alimony, that he was hiding sources of income, and that he'd terminated medical coverage, leaving her and the two children vulnerable.

She also alleged that he still wasn't paying essential bills for which he was responsible: tuition at the childrens' school; the mortgage on their Benefit Street house, which the bank was threatening to foreclose on, and their homeowner's insurance.

In September 2012, Jane Howlett was appointed by former Family Court Chief Judge Haiganush R. Bedrosian as a special master to oversee Huntington's finances, at Cheri's request.

Howlett said that Huntington was compliant with the conditions of the court order dictating the terms of her appointment. However, court filings, in which Howlett argued that Huntington repeatedly failed to produce documentation, reflect otherwise.

In a motion to discharge Howlett as special master, Huntington argued that her limitations on his spending were overly-intrusive and hindered his ability to pay essential bills, such as his childrens' tuition, on time.

"The Special Master has confiscated all of the Defendant's gross earnings and income, denying the Defendant a reasonable and regular sum to meet his needs, the needs of the children and the sundry expenses of maintaining their home," he argued in the motion to discharge.

Huntington's contention with his former wife outlived him. Though his original will afforded full custody of his children to her, an unwitnessed, type-written will found with him at the time of his death requested that custody of his children be awarded to his best friend, Erik Frick, instead.

Custody of the children was ultimately awarded to their mother, but Frick fought nonetheless to do all that he could to make sure that the two minor children would be financially protected, hoping to at least redirect Huntington's $1 million life insurance policy into a fund for them.

"I owed it to him to try," Frick said.

Five months after his death, Chief Judge Bedrosian ordered that half of the net proceeds of the $1 million policy be set aside into a trust "for the sole purpose of funding the higher education" of the two children, who are now in college.
+++
Just before he hanged himself, at around 6 pm on March 8, 2013, after he'd spoken to McCarten, Dr. Christopher Huntington called his divorce lawyer.

Balkun couldn't pick up. He was busy with another client, but texted Huntington that he'd call him later.

Then, around 6:30, Huntington's girlfriend, Leslie Schein, called Balkun. She told him she was concerned that Huntington was about to kill himself.

Balkun called the police in Warwick. There, in January 2013, Huntington had begun a "new and independent medical practice … under an expense sharing agreement with two other independent physicians," according to a filing in the Family Court. But Huntington was at his office in Providence, on West Exchange, and it was too late.

Huntington's pride not only followed him to the day of his death, it defined it. Balkun speculates that Huntington knew that once the BMLD had caught onto his scheme, the police would follow the scent.

The idea of serving prison time was incompatible with Huntington's self-perception as someone impervious to consequence.

"He couldn't perceive himself to be imprisoned," Balkun said. "The social disgrace, the insult to his children and to his ego. Chris had a huge ego."
+++
Huntington's debt accumulated even after his death as creditors and former patients continued to file claims against his estate in the Probate Court.

At the time of his death, he still owed thousands of dollars to his commercial landlord, to the landlord of his condominium in Wilmington, Delaware, to his attorneys, and more.

One malpractice case remains open in the Superior Court, playing out against his estate, with a status conference scheduled for Feb. 26.

As the shockwaves of Huntington's death settled, his adversaries and advocates convened once more at the Probate Court to tie up the many loose ends left behind. His former wife and her lawyer, Keven McKenna, Frick, Balkun, McCarten and Howlett each reckoned with the aftermath: valuing his assets, distributing his medical records to patients, and seeing to the distribution of his estate to his many creditors.

"I liked Christopher, and I mean it when I say he was a great father," Balkun said. But "he got terribly in the way of himself."