William L. Huntley
March 24, 1987 — October 13, 2019
By Ivy Scott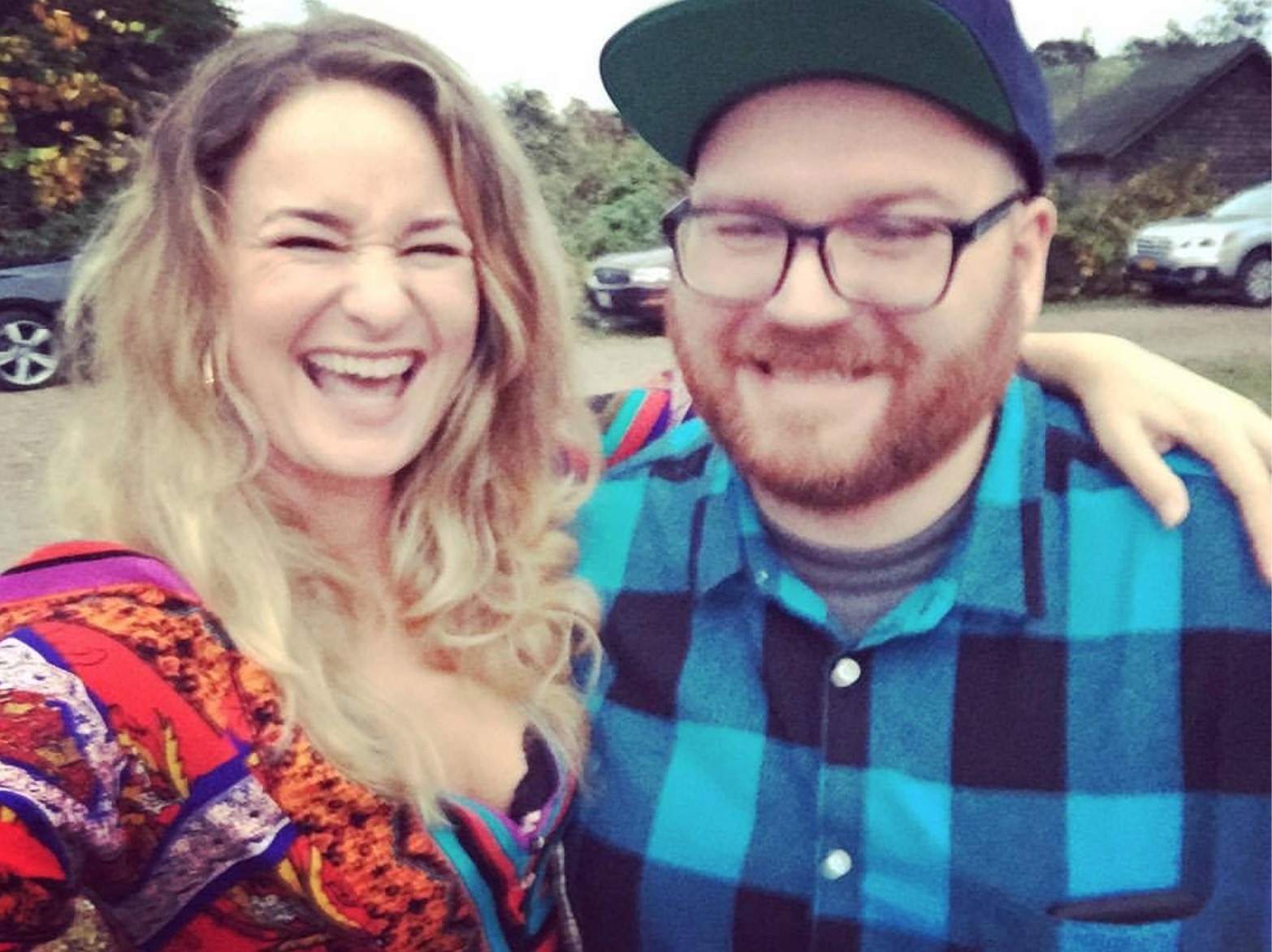 William "Bill" Huntley, with friend Ana Bess Moyer Bell, now an opioid addiction outreach worker, in October 2017. Photo courtesy of Erika Huntley.
To everyone that knew him, William Huntley was a safe space.

"With Bill, you never felt judged," says his mother, Erika Huntley. Dozens of posts on his Facebook wall echo this sentiment, according to his older sister Jen.

"A lot of people wrote about it on his Facebook after he passed away," Jen explains "How Bill was the person they felt comfortable around and not judged around, especially during those tumultuous teen years."

From an early age, Bill's childhood drawings hinted at his future career as an artist and graphic designer. "I was never artsy," his sister says, laughing. "Even as a kid, he was always the artsy one."

Though anxiety and troubles with a classmate in the 10th grade led Bill to drop out of South Kingstown High School the year he turned 16, he was generally the type of guy who got along with everybody. School was where Bill met most of his lifelong friends, including fellow student Hillary Jones who would later become his girlfriend and the yin to his yang.

"He had a good sense of humor and was carefree, whereas I'm not carefree at all," she says, laughing, "and silly where I'm a bit more serious."

"We were always interested in each other, but knew that we were very much different," recalls Hillary, who now works as a hairdresser. "I was always the good girl and he was kind of the bad boy, but at the same time he was so loveable. He was always very protective of me and so caring and genuine."

The couple reconnected in 2018, about a dozen years after Hillary graduated high school, while Bill was working as a vendor at the Providence Flea Market. The two spent the next year and a half dating, doing the things that they each liked best.

"We both loved art and I'm very creative, too, so we connected on that," says Hillary. "We would go to art museums together or try new restaurants, or sometimes he would cook for me."

Cooking was Bill's first love, which he discovered after high school while working in the kitchen of a local restaurant near his home in Wakefield. Starting as a dishwasher, he worked his way through the ranks and in several different kitchens before eventually becoming the sous-chef of an Asian-fusion bistro.

"He was definitely on a strong trajectory in the cooking world," his sister remembers. "He was running a kitchen in East Greenwich, he designed the whole menu and everything." Bill's dream of opening his own restaurant was abruptly shattered, however, when he was hit by a car while crossing the street one evening on his way home from work. The accident caused permanent damage to his knee, forcing Bill to leave the job he loved in 2013.

Unable to work anywhere that demanded long hours on his feet, a 26-year-old Bill moved back into his mother's home. What is the living room today was once Bill's "man cave," and the brightly colored walls are still covered in the artwork that inspired him, as well as his own designs. Years later, Bill still relied on a cane to walk long distances, but he never let his injury stop him from spending time with the people he loved most.

"Every single family get-together, we had four cousins who were younger than us, all little girls between 8 and 13," Jen remembers. "And they were always hanging all over him like a human jungle gym, giggling hysterically. He would roll around on the ground with them, even with his injury. I literally think he left family parties in pain because he would play with them for so long."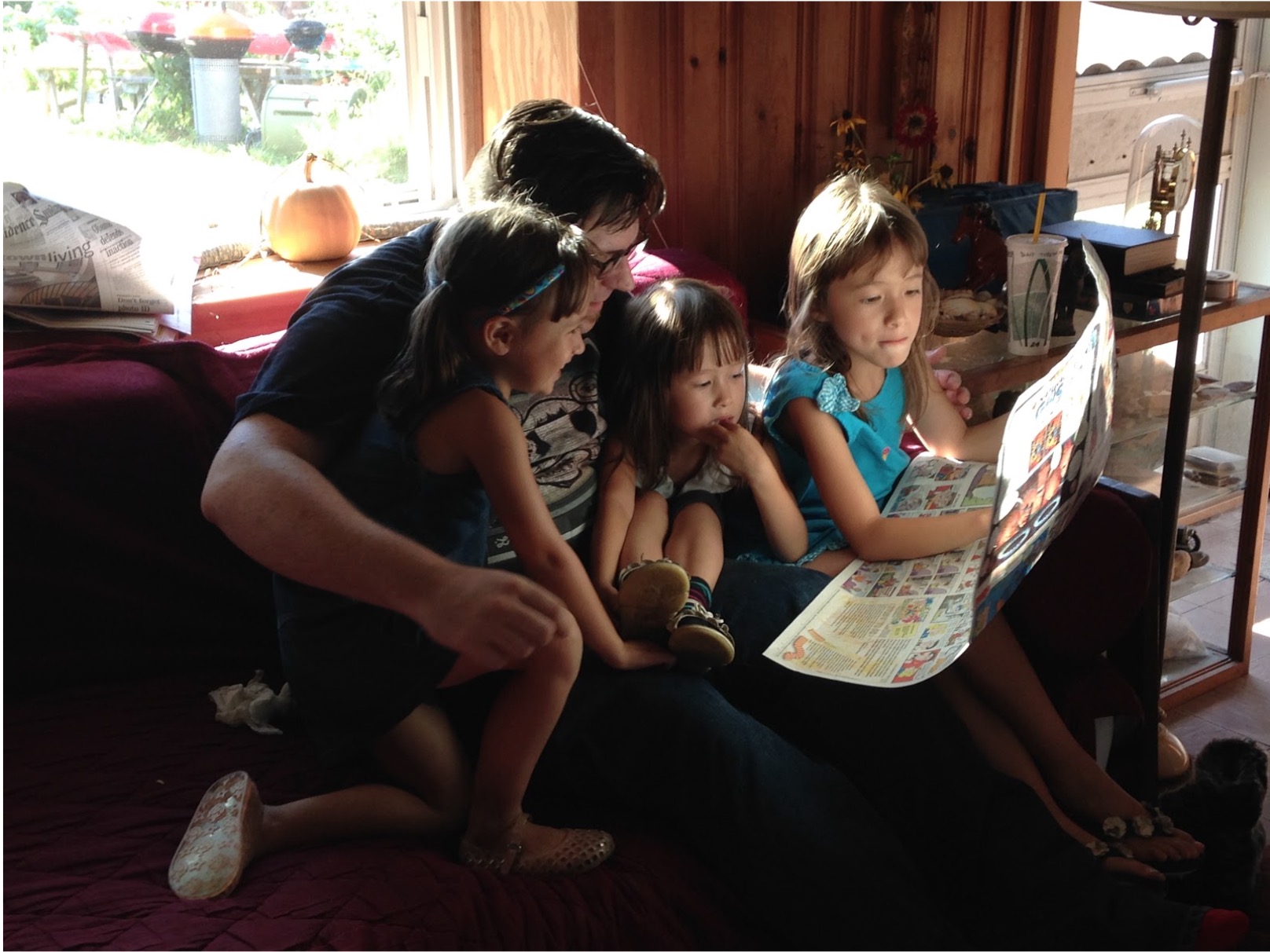 Bill Huntley with his three younger cousins, at the family home in October 2012. Photo courtesy of Erika Huntley.
It was during his time recovering from his knee injury that Bill rediscovered his childhood passion for art, getting involved with his uncle's graphic design and silkscreen business before launching one of his own in 2015. "He called himself the 'Fearless Leader' of Rhode Soda Design," says his mom. She and Jen laugh at the memory but say that Rhode Soda Design brought out a new side of Bill, transforming him from a laid-back teddy bear into a responsible and charismatic businessman.

"Once he got interested in something, he went 200%. There was no fiddle-farting around," his mother says. "He built a whole silk-screening set-up in my basement, and he had someone that helped him print when he got busy. He even did a class once, through a local art store, to show people how to do it."

At around the same time that he started his art career, Bill also began seeking treatment for opioid abuse, a side he kept very private throughout his life. Though Bill rarely shared the details of his addiction with his loved ones, his family suspects that Bill's serious battle with opioids began once he was prescribed painkillers for his knee injury. Hillary says that Bill smoked weed and took pills at parties like many students at their high school, but added that the switch from prescription opioids to heroin occurred several years later.

After starting treatment in 2014, Bill continued to attend therapy and participate in groups like Narcotics Anonymous long after he stopped using, consistently passing his monthly drug screenings. According to his mother and girlfriend, Bill even expressed a desire to become a substance abuse peer counselor one day.

The morning of October 13, 2019, Hillary arrived at Bill's house in South Kingstown to pick him up for a friend's baby shower. When she entered the home, she found Bill unresponsive on the floor of his bedroom. He was already four years clean, and Hillary couldn't believe what she saw.

"In my mind I was like, there's no way he could be dead," she says. "He was doing so much better." Bill was only 32 years old. Though his family opted not to look at his official death certificate or the medical examiner's report, a needle found near his body led his mother to believe that the overdose must have been caused by either heroin or fentanyl.

The dozens of art pieces Bill produced in his lifetime serve as a beautiful memory of the gentle and creative young man. One design, inspired by the Rhode Island flag, is a family favorite.

The state flag sits inside the letter "O" of one word, boldly spelled out on a wooden plaque: H O P E.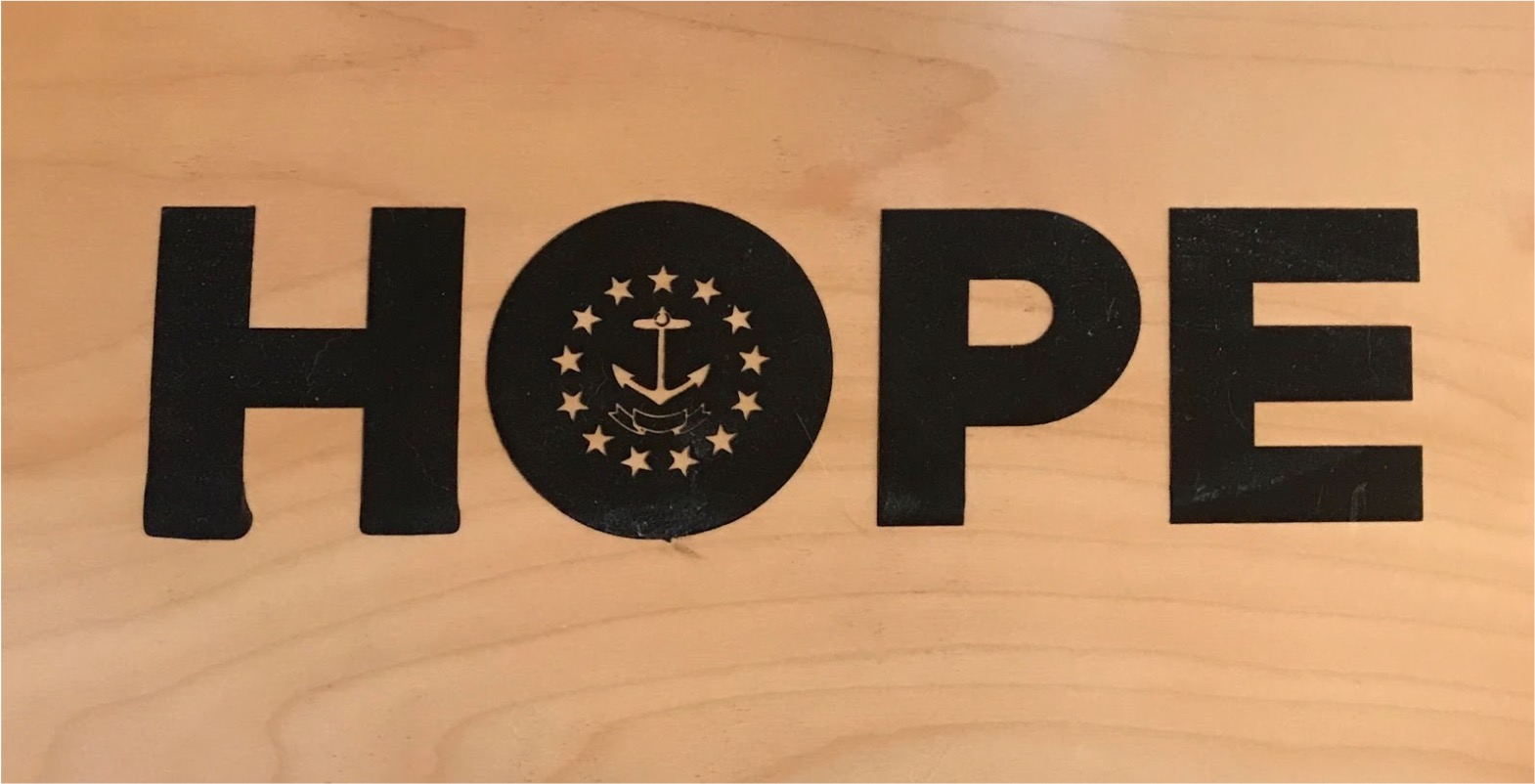 The "HOPE" plaque, one of dozens of examples of Bill's art that his mother keeps in her living room. Photo courtesy of Erika Huntley.
"I look at it all the time," says his mom, reflecting on how she continues to remember her son. "And if I get a tattoo, that's what it'll be."