The Opioid Influencers
Hundreds of thousands of dollars in pharmaceutical marketing money for opioids flowed into RI and surrounding towns in MA and CT, federal data shows
By Hal Triedman
From 2013 to 2020, pharmaceutical companies that manufacture opioids paid hundreds of thousands of dollars to 579 doctors in Rhode Island and 20 nearby towns in Massachusetts and Connecticut, incentivizing them to prescribe opioids to patients for pain relief and addiction medicine, according to data collected by the Center for Medicare and Medicaid Services (CMS).

Federal government data shows that at least $670,268.66 in opioid marketing money flowed into the state and surrounding municipalities over the seven-year span.

Opioid-producing pharmaceutical companies created an ecosystem of economic incentives for prescribers. Companies paid for doctors' meals, travel expenses, speeches and consulting fees. They courted doctors to increase the number of prescriptions for their pain pills. Lawsuits against opioid manufacturers brought by the attorneys general in Rhode Island and Massachusetts allege that these payments almost certainly led doctors to prescribe more opioids than they would have otherwise. Multiple academic studies on the effectiveness of opioid marketing practices support this claim.

However, an inspection of local data and interviews with doctors, regulators, and academic experts show that the opioid marketing machine is undergoing rapid changes in southern New England. As public scrutiny has increasingly turned toward opioid companies for unethical marketing practices, there has been a decrease in payments to doctors who prescribe such drugs.

Regulations, enforcement practices, and medical norms are shifting away from the widespread use of opioids to treat pain and the uncritical acceptance of opioid marketing dollars.

But for years, hundreds of doctors in Rhode Island and surrounding municipalities in Massachusetts and Connecticut were the targets of a well-oiled opioid marketing machine devised by pharmaceutical companies to increase corporate profits from opioid prescriptions.

Tasked with managing patients with debilitating pain or opioid dependence, adapting to changing cultures of opioid prescribing, and parsing medical truth from misleading sales pitches, doctors who treat pain have not been in an easy position, Dr. Scott Weiner, an emergency medicine specialist who heads the opioid stewardship program at Boston's Brigham and Women's Hospital, said in an interview.

Opioids like morphine have been prescribed to manage chronic pain since their discovery in the early 1800s. They are beneficial — even necessary — for some patients to control excruciating pain after surgeries, pain caused by certain cancers, and for end-of-life pain, when patients are given comfort care in the days leading to death. Doctors who specialize in hospice care, surgeons, anesthesiologists, and other practitioners administer such drugs daily as a routine part of their practices.

"Physicians were really stuck in the middle," Weiner said. "They're like, 'Wait, you told me [treating pain with opioids] is good. But now you're telling me it's bad. And I've got patients that are on them, and I can't just take them off of them because they've been on them for a long time, and a lot of them are doing well. So what do I do?'"

Like many states, Rhode Island is experiencing a decades-long crisis of opioid overdose deaths that seems unlikely to abate soon. Prescription opioids play a key role in the prevalence of substance use disorders. Research conducted by the Rhode Island Department of Health showed that 64 percent of the people who died of an opioid overdose between January 2016 and June 2020 had previously received an opioid prescription.

While opioid-producing pharmaceutical companies gave more than $670,000 to prescribers in and around Rhode Island, the annual overdose death rate in the state shot up by 28 percent, from 240 deaths in 2014 to 308 in 2019. And opioid overdose deaths reached an all-time high of 384 in 2020, jumping by 24.6 percent compared to the year before, according to data from the Rhode Island Department of Health.
"Make sure that they remain high volume prescribers": Opioid marketing strategies
Purdue Pharmaceuticals revolutionized the field of opioid marketing, starting with its aggressive promotion of OxyContin in the late 1990s and early 2000s, a drug widely considered to have kicked off the modern opioid epidemic. Marketing controlled substances like opioids directly to patients is illegal, so to increase prescription rates, Purdue presented doctors with targeted sales pitches. A sweeping New York lawsuit against opioid manufacturers claims that six companies, including Purdue, made misleading, deceptive, or outright false claims to prescribers about their drugs.

After the consulting firm McKinsey found that Purdue was able to drive up opioid prescriptions by targeting the highest-prescribing doctors with dozens of sales visits, the company focused its efforts and money on those doctors, according to a lawsuit filed against Purdue by Massachusetts Attorney General Maura Healey.

The Massachusetts lawsuit alleges that the company "rewarded high-prescribing doctors with coffee, ice cream, catered lunches, and cash." At one point, the lawsuit says, Purdue internally estimated that they spent around $9 million per year on buying food for doctors who prescribed their opioids.

At a population level, harm lies in these kinds of small, widespread payments, said Brandon Marshall, a professor of epidemiology who researches the opioid epidemic at Brown University's School of Public Health, in an interview. "The aim is to broadly increase prescribing for specific products. That's why companies are doing this so broadly, across the entire country, trying to contact so many doctors. That's where the population harms are — they're small, but they add up."

Opioid-producing companies were also recruiting and funding "Key Opinion Leaders" — trusted, well-known doctors based in specific geographic areas — to present their ideas to other doctors in conference speeches and paid dinners. Some pharmaceutical companies also designed "continuing medical education" classes, which doctors are legally mandated to attend in order to keep their license. Some pharmaceutical companies reimbursed doctors for attending the courses.

Nationally, the highest-earning speakers received millions of dollars. In Massachusetts and Rhode Island, some doctors received tens or hundreds of thousands of dollars.

"Those are the people that the companies have identified as effective messengers to try to promote prescribing," said Marshall. "They themselves are often high volume prescribers."

These tactics — focusing time, money, and gifts on the highest prescribers of opioids, while funding an intellectual ecosystem that uncritically supports broad use of such drugs — soon became widespread practice in the pharmaceutical promotion industry. "Companies are doing this to target high volume prescribers, to make sure that they remain high volume prescribers," Marshall said.

According to eight years of publicly-available data acquired from the Center for Medicare and Medicaid Services, 579 doctors in Rhode Island and surrounding municipalities received at least one payment from an opioid-producing pharmaceutical company from 2013 through 2020. However, both the money and the number of payments were unequally distributed, highly concentrated among the top earners.

The two largest recipients of money — Henry Crowley and Jerrold Rosenberg — received 968 payments, accounting for 15.2 percent of all of the payments to doctors in the area. Those two doctors alone account for $407,536.56, or 64.2 percent of all of the money received by doctors in Rhode Island and nearby cities and towns in Massachusetts and Connecticut.

Jerrold Rosenberg and Henry Crowley received a disproportionately large share of payments and total money from opioid-producing pharmaceutical companies. Data: CMS Open Payments Database. Credit: Hal Triedman and Gabriel Rizk.
Nine of the top ten recipients in Rhode Island and nearby Massachusetts served as consultants and/or speakers for pharmaceutical companies at some point between 2013 and 2020, the Medicare/Medicaid data shows.

Some of these doctors received thousands of dollars through sponsored speaking tours or giving talks at continuing medical education classes. But besides Rosenberg, none of them have been investigated, reprimanded or suspended by the Massachusetts Board of Registration in Medicine or the Rhode Island Board of Medical Licensure.

According to federal Medicaid and Medicare data, the single highest recipient of opioid dollars in both Massachusetts and Rhode Island was Henry Crowley, an anesthesiologist from Fall River. In addition to being an anesthesiologist, Crowley specializes in pain management and pain medicine. Over the seven-year span of publicly accessible federal data, he personally received a total of $214,749.60 from 14 opioid-producing companies, serving as a paid speaker for six of those companies and delivering talks that addressed seven opioids.

Crowley received 309 payments for meals, totalling $8,046.37, and was paid $28,696.69 for travel and lodging expenses over this period. He also received several hundred dollars for mandatory continued medical education courses that he took.

But the vast majority of the money he received — $147,500.92, split up over 137 payments — came from paid promotional speaking events. Nearly $70,000 of that money came from Purdue Pharmaceuticals or its affiliates to promote opioids like Hysingla, Butrans and OxyContin. Another $39,562.50 came from Collegium Pharmaceutical, for events related to Xtampza, an oxycodone-based drug. He also received $51,800 in honoraria and promotional speaking events from Teva Pharmaceuticals to promote Fentora, a fentanyl-based medication used to help relieve sudden pain in cancer patients who are regularly taking moderate to large amounts of opioid medication for pain relief.

Crowley was the fourth-highest individual recipient of pharmaceutical money for opioids in New England between 2013 and 2020.

In recent years, Crowley has been looking into other forms of pain management. After Massachusetts legalized recreational marijuana in 2016, he and a business partner formed a company called Cannatech Medicinals, Inc. and unsuccessfully attempted to start a marijuana dispensary in Fall River.

When reached on the phone for comment, Crowley said he had done nothing wrong in accepting payments from opioid manufacturers. He said that when he accepted speaking engagements from pharmaceutical companies that produce opioids, he "only spoke about products that I believed would help our patients." He agreed to do a more in-depth interview about his practice and relationships with pharmaceutical companies after being initially contacted by phone for this story but since that brief conversation, he has not returned messages left at his office.

A manager at his clinic, reached via email, wrote that "Dr. Crowley has no time except for patient care. He declines an interview."

The second-highest recipient of dollars paid to doctors by drug companies seeking to boost opioid sales in Rhode Island was Jerrold Rosenberg, a former pain management doctor based out of North Providence who is now incarcerated in a federal prison in Philadelphia.

In 2018, Rosenberg, now 66, was sentenced to 51 months in federal prison for committing healthcare fraud and accepting $188,000 in kickbacks from Insys Therapeutics for prescribing liquid fentanyl to patients, some of whom begged him to be taken off the drug. The billionaire founder of Insys Therapeutics, John Kapoor, was sentenced to five and a half years in prison for orchestrating similar kickback schemes with doctors all over the country.

But the vast majority of doctors who received payments or gifts from opioid manufacturers got far less — the median payment was a free meal worth $13.92, often accompanied by a presentation by a sales representative in their office or another doctor at a conference.
+++
Study after study has shown strong associations between payments of any size from pharmaceutical companies to doctors and doctors' future increases in opioid prescribing. Professor Marshall, the Brown University epidemiologist, has published multiple papers with collaborators Dr. Scott Hadland from Boston University and Dr. Magdalena Cerdá from New York University, analyzing the associations between doctor payments, prescribing rates and opioid overdose deaths.

In a 2018 study in JAMA Internal Medicine, Marshall and his collaborators connected the doctor payment database with the Medicare Part D Prescriber database, allowing them to investigate how payments for opioid products in 2014 were associated with Medicare prescription claims in 2015. They found that each meal a doctor received in 2014 was associated with increased Medicare claims for opioids in 2015.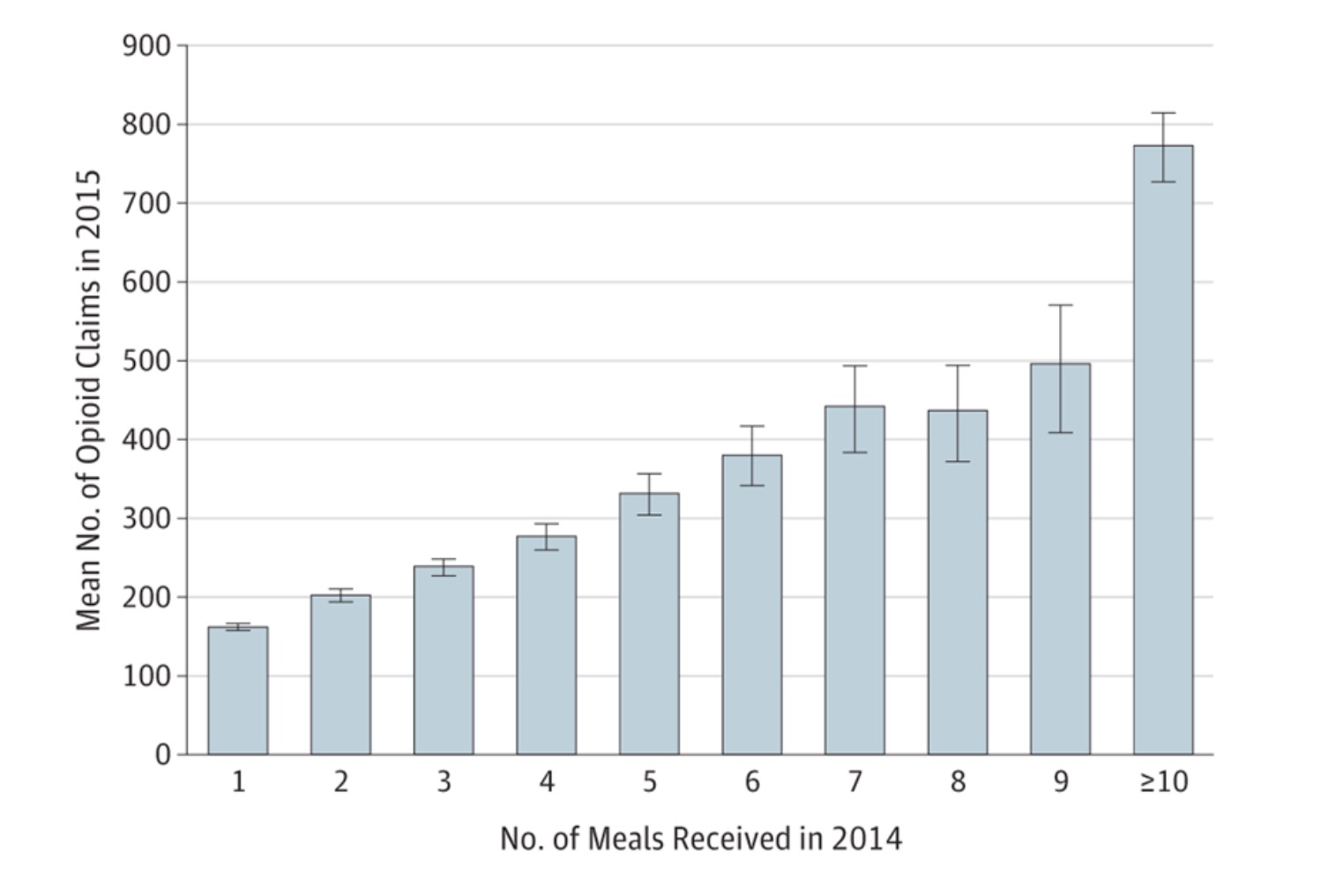 The more meals a doctor received in 2014, the more they prescribed opioids in 2015. Credit: "Association of Pharmaceutical Industry Marketing of Opioid Products to Physicians With Subsequent Opioid Prescribing," 2018.
A 2019 paper by Professor Marshall and his co-authors, also published in JAMA, studied "the association between pharmaceutical company marketing of opioids to physicians and deaths from prescription opioid overdoses." In that study, they "found that counties receiving such marketing subsequently experienced elevated mortality."

One study from other researchers at Indiana University and the University of Georgia found that increasing a US doctor's payments by just 1 percent was associated with an increase in 50 daily doses of opioid prescriptions per year. The researchers found that "prescribers who received opioid-specific payments prescribed 8,784 opioid daily doses per year more than their peers who did not receive any such payments." They observed similar yearly increases in daily doses of hydrocodone, oxycodone and fentanyl prescribed by doctors who received payments from pharmaceutical companies that manufactured and promoted such drugs to them. Another collaboration between Harvard and CNN found that doctors who wrote more prescriptions got paid more by opioid-producing pharmaceutical companies.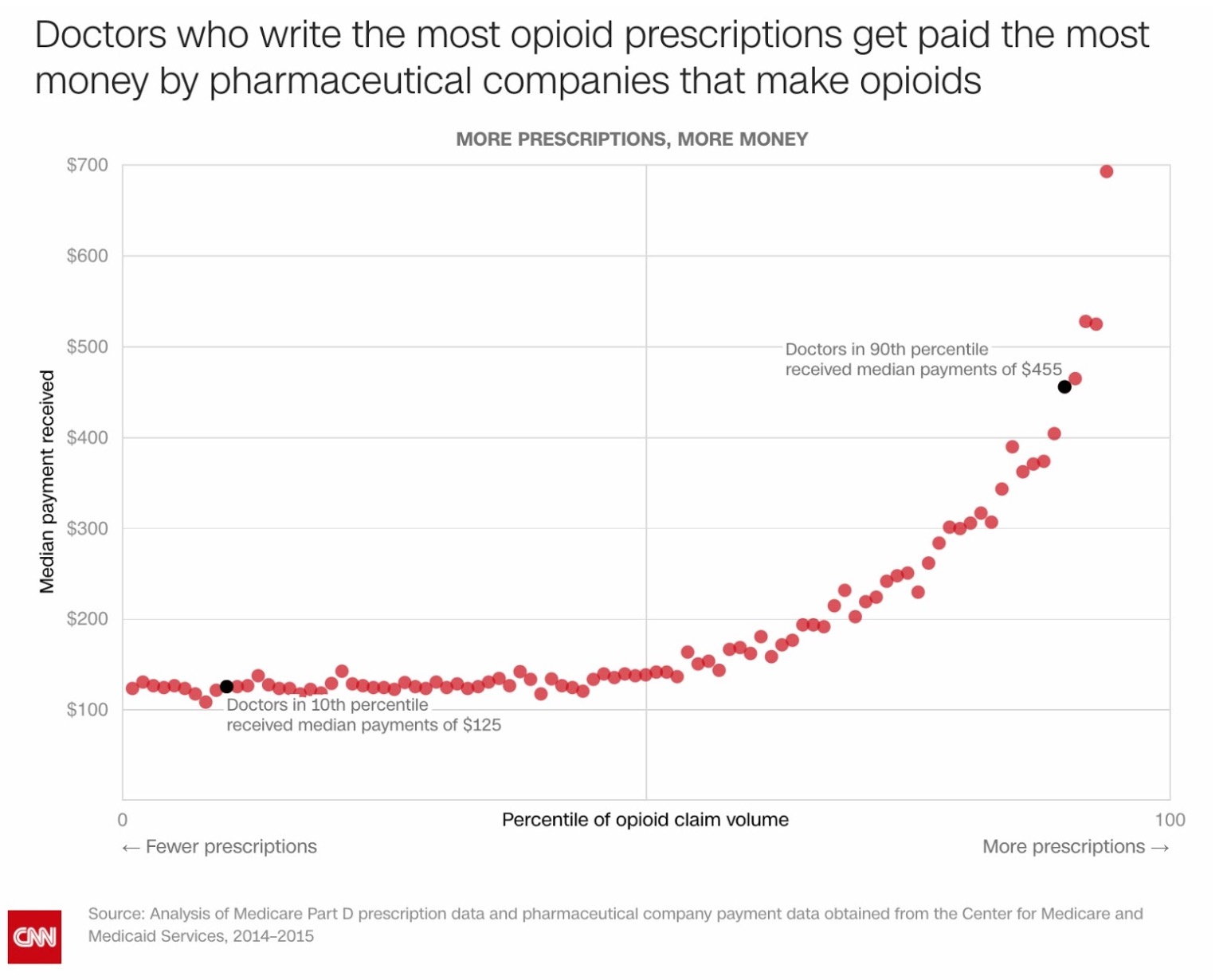 Credit: CNN and Harvard University.
High-prescribing doctors are overwhelmingly the target of pharmaceutical marketing dollars. However, it's hard to establish that those prescribers were influenced by pharmaceutical company payments, except in rare cases like that of Rosenberg and Insys Therapeutics. After all, some doctors might just be high prescribers due to their specialty or patient population.

"Do marketing dollars lead to prescriptions for opioids, or do high prescribers attract pharmaceutical dollars?" asked Dr. Michael Barnett, a doctor who studies the opioid crisis at Harvard University. "The evidence is very clear that receiving pharmaceutical dollars leads to higher prescribing rates… That's not to say that there aren't doctors who wouldn't be high prescribers otherwise. But the pharmaceutical companies aren't wasting their money."
"I might give an entire lecture and not mention OxyContin": The perspective of doctors
But the birds-eye view of payments in the state and the removed analysis of academia looks very different from the perspective of doctors on the ground. To some doctors who deal with pain, confronting the messy reality of patients seeking relief was, and is, difficult.

"I could see it in my own practice that people were coming with things like dental pain or back pain. And I would first give them a couple of Motrin. And then it was like, 'It doesn't work. I need something stronger,'" said Dr. Weiner. "And then before you know it, people were asking for oxycodone, Percocet, or hydromorphone… really, really heavy doses of these drugs."

And until the mid-2000s, the scientific literature was in favor of those uses of opioids. "We were told very clearly — by good evidence, too — that we were under-treating pain," Weiner said.

The so-called "Key Opinion Leaders" had their own rationales for working with pharmaceutical companies and joining the speaking circuit.

Walter Jacobs is a former doctor from North Andover, MA and is named as Purdue Pharmaceuticals' highest prescriber in Massachusetts in the state Attorney General's lawsuit against Purdue. The lawsuit alleges that from 2008 to 2012, working alone and usually just three days a week, Jacobs prescribed 347,000 Purdue opioid pills. More than 200,000 of those pills were 80 mg OxyContin pills, the strongest dose available. Jacobs was also a speaker hired by Purdue, ultimately receiving $80,000 to promote the company's opioids to other doctors.

Jacobs gave up his medical license in 2012 after a misconduct investigation by the Massachusetts Board of Registration in Medicine found that he provided substandard care to 12 of his patients. The complaint alleges that Jacobs continuously prescribed narcotics to patients who were doctor- and pharmacy-shopping, selling their drugs illegally, refusing to take drug tests, or who had evidence of illicit drugs in their systems.

In one case, he prescribed narcotics to a patient who had overdosed on methadone less than one week earlier. In another, he gave a patient six prescriptions for fentanyl on one day and instructed her to fill them at six different pharmacies.

And "[b]y the time Jacobs lost his license," the lawsuit says, "he had prescribed enough opioids for Purdue to collect more than $3 million" based on prescription pricing data.

Jacobs, who is currently licensed to practice law in Massachusetts, received a legal reprimand in 2018 for attempting to serve as criminal defense counsel for a friend in New Hampshire in an aggravated sexual assault case. The victim, who was the defendant's stepdaughter, was one of Jacobs' former patients.

In an interview, Jacobs refused to comment on any of the allegations in the Massachusetts lawsuit regarding his prescribing habits or patients, citing doctor-patient confidentiality. But he denied that his speaking engagements constituted any wrongdoing.

"I was not hired to promote OxyContin," he said. "I was hired to lecture on pain evaluation and pain management, the right way…They didn't hire me to push the drug."

Jacobs was adamant that chronic pain is a crisis in and of itself and that authorities have been overzealous in cracking down on the prescribing of opioids. "The system has hurt thousands of people who suffer from chronic pain," he said. "They cannot get basic relief, so instead of getting pain medicine to treat it, they turn to alcohol or other things." Much of his practice, he claimed, was centered on elderly patients in long-term care facilities with chronic pain, as well as end-of-life care. "I signed more death certificates than many of my colleagues," he said.

But the disciplinary complaint against Jacobs tells a different story. The complaint says that Jacobs "gives his specialty as Family Medicine; he is not board-certified in any specialty." The 12 patients whose experiences were logged as evidence in the case ranged in age from 27 to 49 years old. All of them were patients of Jacobs for years, and some of them saw him for decades.

To him, opioid marketing, including paid speaking gigs, was just rational corporate behavior: "This was done throughout the industry, not just the companies that made opioids. It was done by all the companies that made birth control pills, antihistamines, antibiotics, antihypertensives, different insulin companies."

Barnett, the Harvard doctor, disagrees with this assessment of the situation. The pharmaceutical companies "take the faux-naive view that professionals will not be affected by marketing," he said. "But we know now that that is BS."
The ongoing debate over opioid marketing
In recent years, norms have changed around the responsible prescription of opioids. "The pressure is now to make those prescriptions much smaller," said Weiner of Brigham and Women's Hospital, or to "use whatever we can as alternatives to opioids." In some cases, only a few days' worth of pills is necessary, he said. "If people have an acutely painful condition, usually it's really bad for the first two to three days, and then it tapers off after that."

And as these norms have changed, publicly accessible data from the federal government and Prevent Overdose RI shows that payments from pharmaceutical companies that prescribe opioids and opioid prescribing rates have dropped off. At the same time, more legislation has been passed to regulate the industry. In 2016, Massachusetts passed legislation establishing a seven-day cap for first-time opioid prescriptions. Two years later, the state prohibited the use of opioid discount and free trial coupons that were used to increase new patients and keep other patients on opioids for longer.

Rhode Island has also taken legislative and regulatory action, establishing limits on opioid prescriptions for acute pain and establishing a prescription drug monitoring program (PDMP). The PDMP program is a statewide database which allows prescribers and pharmacists to track patients' opioid prescriptions, and allows doctors and pharmacists to identify suspicious prescribing patterns.

Pharmacists can use the PDMP to flag suspicious or irregular prescribing patterns, and doctors in Rhode Island are required by law to check the database before prescribing opioids to a patient. However, the state board of medical licensure does not actively surveil the prescribing of doctors, according to an interview with Dr. James McDonald, the Chief Administrative Officer of the Rhode Island Board of Medical Licensure.

Still, opioid companies continue to market their products to the maximum legal extent, raising critical questions about how to balance the treatment of chronic pain and a crisis of opioid overdose deaths that has surged both nationally and locally over the past year.

"It's pretty easy to look back on the last 20 years and say, the kind of marketing that happened for opioids was a disaster, and that we would be better off without it completely," said Professor Meredith Rosenthal, a health economist at Harvard University. "But I do wonder if there is some kind of middle ground because clearly, I think one of the things that set us down this path was a genuine concern about pain management."

"The major philosophical question is 'Should pharmaceutical companies be marketing to doctors at all?'" said Barnett, "at least for certain classes of drugs." He believes there should be a ban on physician marketing for controlled substances like opioids.

"The potential for harm is so large," said Barnett. "Marketing of controlled substances is just way too fraught."

— With reports from Kshitij Sachan. Data analysis and graphics by Hal Triedman and Gabriel Rizk.