In an Effort to Stop One Opioid Epidemic, the VA Started Another
By Greer Brigham
As veterans across the country suffered through the nation's opioid epidemic, the Department of Veterans Affairs (VA) attempted to curb the crisis in 2013 by instituting national guidelines recommending that doctors stop prescribing so many opioids.

The plan seemed to work — prescription rates plummeted. In 2018, then Secretary of Veterans Affairs Robert Wilke released a statement calling the VA "a recognized leader in pain management and opioid safety," adding that "its success in reducing the use of opioids can be emulated by other health systems through VA's proven strategies."

Between 2012 and 2020, the number of patients receiving opioids at VA hospitals throughout the United States fell by 64%. But as these prescriptions fell, a dark new epidemic began to unfold.

Previously unreported data shows that scores of VA patients killed themselves and overdosed on street drugs, mostly heroin and fentanyl, as veterans who suffered from severe pain or who had grown addicted to opioids after being given prescriptions for years at VA hospitals found themselves suddenly cut off. In 2016, about 365 more VA patients died from drug overdoses involving heroin than in 2010. Deaths from drug overdoses involving synthetic opioids other than methadone (e.g. fentanyl) increased by about 460 over the same time period. Some of these people died from a combination of both of these drugs. Almost all of the increase in overall street drug overdoses occurred after the release of the new guidelines.

According to CDC data, the number of civilians overdosing on heroin and fentanyl also increased as opioid prescription rates fell nationally. However, this increase in overdose deaths was smaller than the spike in deaths experienced by VA patients over the same period of time.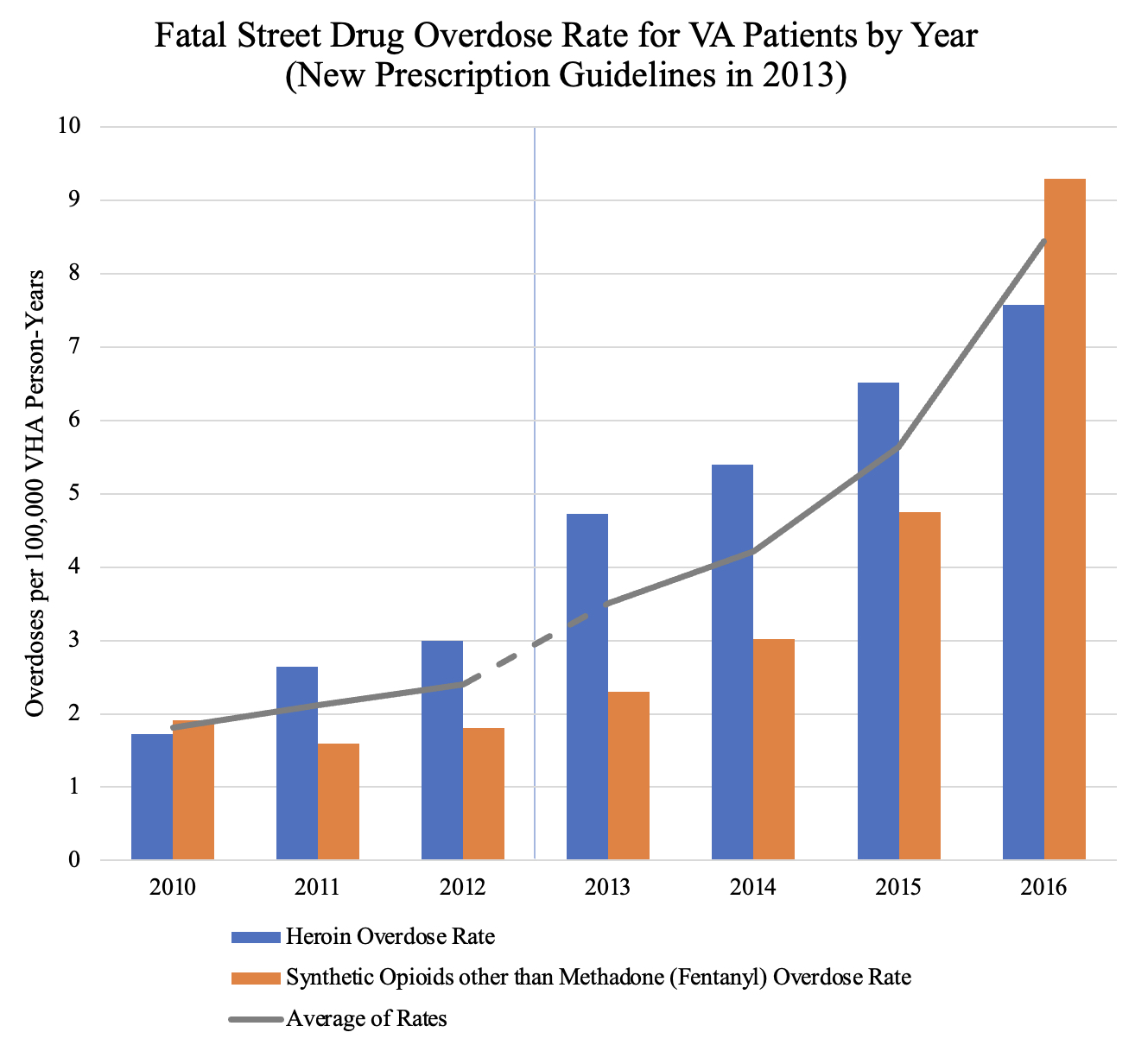 Data source: Changing Trends in Opioid Overdose Deaths and Prescription Opioid Receipt Among Veterans, American Journal of Preventive Medicine (AJPM), July 1, 2019. A "street drug overdose" here refers to an overdose on heroin or synthetic opioids other than methadone (mostly fentanyl). Graphic by Greer Brigham.
Staff Sergeant Zachariah Williams of Apple Valley, Minnesota, had received opioids for years. The son of a veteran, Williams served the country for over a decade in the Army with the First Infantry Division, including tours in Kosovo and Iraq. His fellow soldiers called him a "great leader" with a "good heart," in notes written later to his mother, and he earned a Bronze Star Medal and two Purple Hearts. In 2006, he was blown up by a roadside bomb in Iraq that left him with 14 herniated discs in his back. Doctors issued Williams opioids in 2008 — initially Vicodin and Lortab — to deal with the pain, but began to taper his dose down to zero in 2013 in line with the new guidelines.

His mother, Kathy Williams, said that his opioid prescription worked initially, but "it took more and more and more and more for him to get by everyday." After years of the prescriptions, she says her son had grown addicted. When the VA tapered his dose, he started seeing a private doctor who would "prescribe him whatever he wanted."

On September 20, 2013, Kathy Williams got a call from her son's pregnant fiancée, Neva Howard. Howard asked, "Have you talked to Zach today? I haven't heard from him all day and I'm shopping in Duluth with my friend!" Williams, who lives in Arizona, tried to call her son. He didn't pick up. Sensing something was wrong, she sent one of his military friends over to check on him.

The friend found Williams dead. At 35, the decorated soldier and father had accidentally overdosed on a combination of venlafaxine (an antidepressant) from his doctor at the Minnesota VA and fentanyl that a private doctor had prescribed.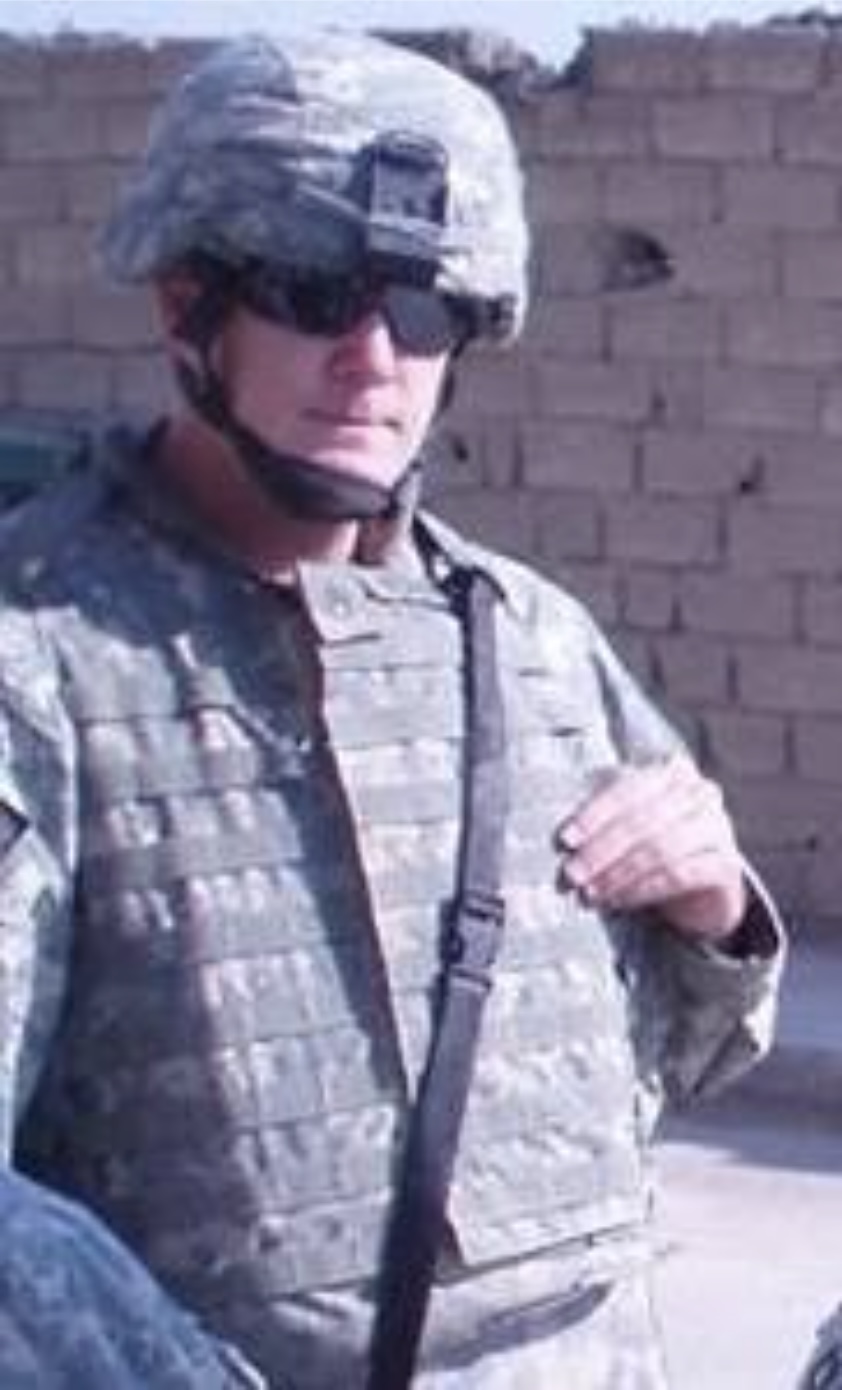 Zachariah Williams in Iraq, 2007. Photo courtesy of Kathy Williams.
According to data published last January in the British Medical Journal, veterans who had their opioid prescriptions discontinued in 2013 faced sky-high fatal overdose and suicide rates compared to those who maintained their prescriptions.


Suicide risks were particularly high for affected veterans who had previously maintained an opioid prescription for a long time. VA patients who were prescribed opioids for over 400 days before stopping were 7.99 times more likely to commit suicide than similar veterans who kept their prescriptions.

Between 2012 and 2020, the number of VA patients on long-term opioid therapy (LOT) fell by 70%. Current VA guidelines, posted on their website, recommend that doctors continue with plans to taper these veterans off opioids even if they threaten suicide.


In 2019, 104 doctors, physicians, and academics signed an open letter in the Pain Medicine journal calling for "urgent action" to address the "large-scale humanitarian issue" of forcing opioid tapering for all patients who had received a prescription for an extended period of time.
+++
The prescription changes in 2013 came as part of the national VA Opioid Safety Initiative (OSI), which recommended that VA doctors cut way back on prescribing opioids and instead prescribe alternative treatments for managing pain. These alternatives include mindfulness therapy, acupuncture, massage, meditation, physical therapy, tai chi and yoga.

In 2012, 679,376 VA patients received prescriptions for opioids, but by 2020, the number had fallen to 247,302, according to a VA press release.

Dr. Gavin West, the original head of the OSI, said in an interview, "The opioid epidemic was two things. There was a prescribing epidemic, and then there was a big backlash, and then there was an illicit opioid use epidemic. And they're directly related."

West said the VA wanted to come up with alternatives to treating injured vets with opioids because such drugs are highly addictive. "If you cut a bunch of people off medicines you're prescribing — and especially highly addictive medication — then they're going to go to other places to get those medications."

The VA ran a pilot study of the OSI at the Minnesota VA in order to test the effectiveness of the new plan before implementing it nationally. Researchers called the initiative a success as prescription rates fell rapidly. However, their evaluation did not analyze whether the changes led to more overdoses and suicides among Minnesota VA patients like Zachariah Williams.

Both West and Dr. Rollin Gallagher, the VA's National Director of Pain Management at the time, believe that the availability of alternative pain management techniques allows doctors to taper their patients' opioid prescriptions more safely. But since individual VA medical centers and regional groups of VA hospitals were allowed to decide on their own how to implement the new guidelines, Gallagher concedes that some hospitals did a better job than others in making sure that alternative treatments were in place when the prescription cuts began.

"It is relatively easy in a health system to say to providers, 'lower the opioids,' and for the providers to comply by doing that at the next visit," Gallagher said. However, he said, "They may not have had the resources to support their tapering, and the tapering may not have been implemented as effectively as it could have been."

As it turned out, the hospitals that cut prescription rates by the largest amounts ranked among the VA's self-described worst. According to the VA's own 2018 ratings, the opioid prescription rate fell by 5.7 percentage points at the average 5-star VA hospital between 2012 and 2018, while the rate fell by 10.4 percentage points at the average 1-star hospital. The two VA hospitals that Secretary Wilke praised for making deep cuts in opioid prescriptions — El Paso, Texas with a 13.8 percentage point decline and Fayetteville, North Carolina with a 14.6 percentage point drop — had ratings of one and two stars, respectively.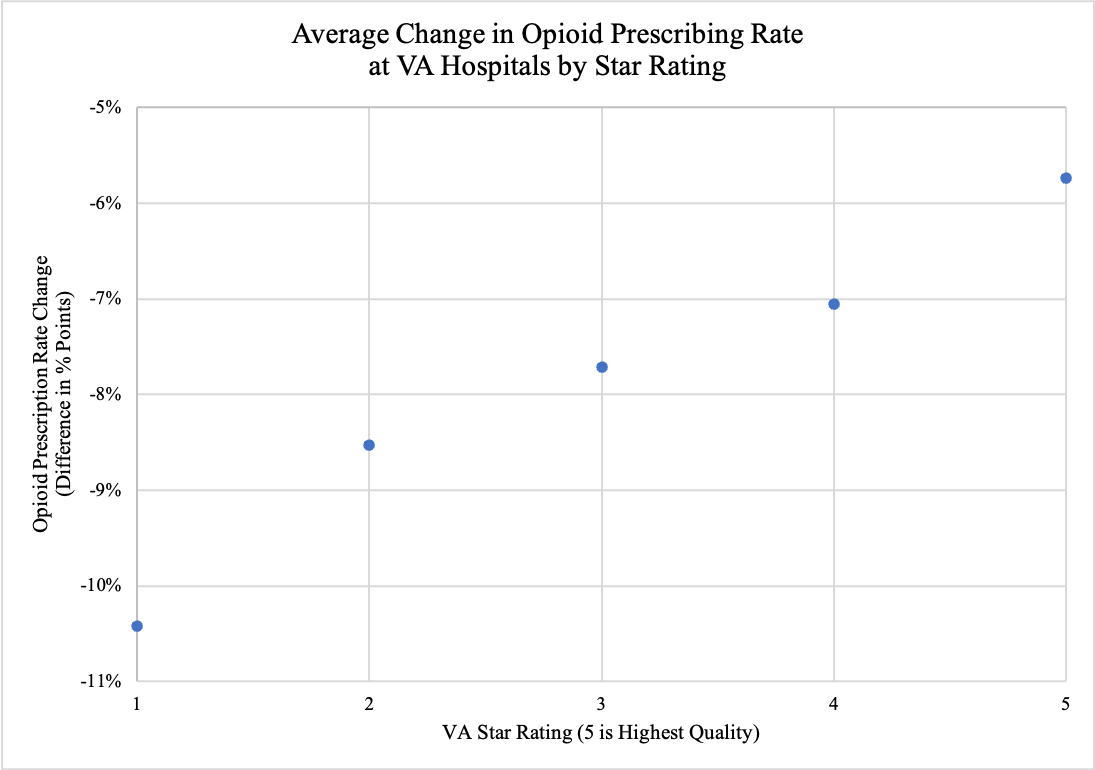 As prescription rates fell, the new epidemic spilled across the pages of local papers around the country.

On June 15, 2014, the Minnesota Star Tribune reported that Ryan Trunzo, 26, overdosed on heroin. Due to a history of addiction and the change in VA policy, Trunzo received nothing stronger than ibuprofen to treat his pain. Trunzo's mother told the Star Tribune, "When Ryan came back home, he went to doctors to get pain medication and couldn't get it." She said, "That's when Ryan started using street drugs to stop the pain, to stop the memories."

On July 25, 2014, the Roanoke Times reported that Kevin Keller, 52, broke into his friend's house to steal his 9 mm handgun and drove to the VA outpatient clinic in Wytheville, Virginia. He banged on the locked doors of the office before shooting himself in the head. Keller's friend found a note reading, "MARTY SORRY I BROKE INTO YOUR HOUSE AND TOOK YOUR GUN TO END THE PAIN! FU VA!!! CAN'T TAKE IT ANYMORE." Shortly before his death, the VA had begun to wean Keller off of his opioid prescription.

On January 25, 2017, the Topeka-Capital Journal reported that Travis Patterson, 26, attempted suicide. He suffered from intense physical pain that stemmed from injuries that occurred during his service in Iraq, Afghanistan and Nigeria. According to Patterson's wife, the Kansas VA told him that they could not address his physical pain, and instead gave Patterson the phone numbers of local therapists and the Veterans Crisis Line, as well as a stress ball. Patterson took his own life the next day.

+++
Even veterans who survived the VA's changes say they experienced extreme suffering in their everyday lives.

Robert Rose Jr., who served as a sergeant in the Marine Corps from 1983 to 1994, suffered compression fractures in his neck and lower back when he fell 65 feet into the Mediterranean during a helicopter training accident while serving in Italy. With the help of opioids and massage therapy, he was still able to coach Little League back home in Tennessee, serve as a Scout leader, and teach a high school Spanish class which he joked, "would have been as much fun as the Marine Corps if they'd just let me blow something up."

But in October of 2016, Rose's doctor at the VA in Johnson City, Tennessee informed him that the VA would be cutting his daily 180 milligrams morphine dose to zero over the course of the next couple months, according to Rose.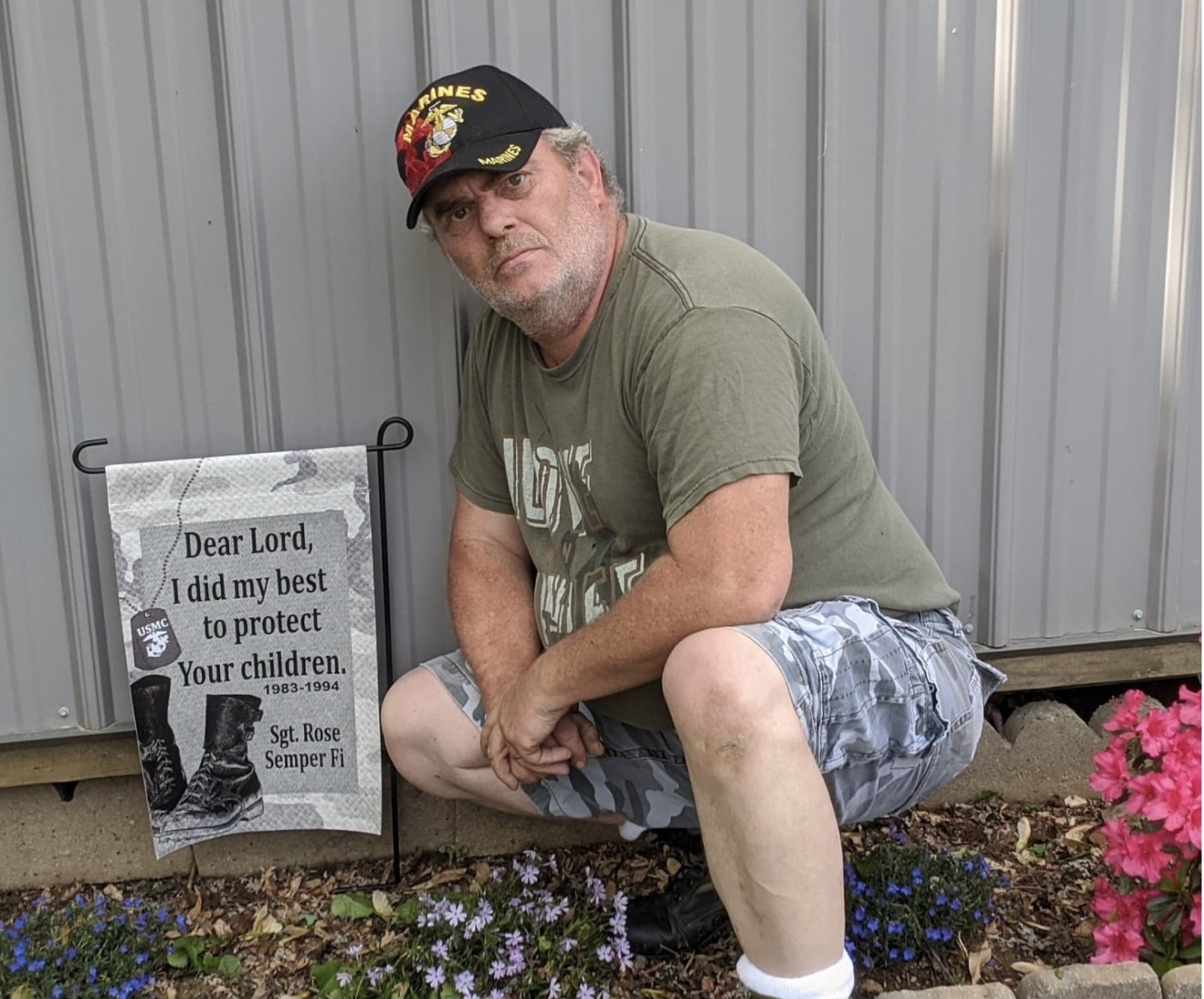 Robert Rose Jr. in 2020. Photo courtesy of Robert Rose.
"It was a small dose on December 29th, and the following two years was a bitch," he says. He was frequently bedridden with pain and had to use a wheelchair to move around. His sister died on October 8, 2017, and he begged his VA doctors for more pain medication; "something, anything to get me through the week so I could spend it with my family, and they refused. We had to lay my sister to rest and I couldn't be there."

One month later, Rose, representing himself, filed a $350 million lawsuit against former Congressman Phil Roe (R-TN), who at the time served as Chairman of the United States House of Representatives Committee on Veteran's Affairs, as well as 17 employees of the Mountain Home VA Medical Center. The US District Court for the Eastern District of Tennessee dismissed all of Rose's claims.

Dr. Ajay Manhapra is a co-author of the 2020 study that revealed grave threats to VA patients who had their opioid prescription discontinued in 2013. In a recent interview, he laughed when asked about the reaction to his findings.

"People have ignored it. It doesn't fit the narrative, right?" he said.

Manhapra, who currently serves as section chief of pain management at the Hampton VA in Virginia, said that the current narrative is that "the opioid problems regarding tapering is because you have not taught doctors to taper properly. If you taper it slowly, it won't cause much problems, right? But this is a biological property of opioids. You cannot overcome it even if you taper it slowly."

Manhapra says that in many ways, "the Opioid Safety Initiative has done a lot of good, but we did not know the full science when we embarked upon it."

He noted the difficulty of the VA's predicament. "It's a damned if you do, damned if you don't situation… Continuation of long-term opioids does not make much sense because [patients are] not doing very well. Right? But with the discontinuation what we're finding [is] a lot of these people become more disabled and in more pain. And they become very psychiatrically unstable too."

Zachariah Williams' story shows the complexity of this issue. His life was far from perfect in the years before his doctors decided to taper his opioids in 2013. Kathy Williams says that her brilliant son, who was unstoppable when he put his mind to something, began to spend 90% of his time in bed or on the couch -- numb from the powerful opioids in his system. "He was addicted to the drugs," she said. "He lost all of his drive to do anything." His first opioid overdose came back in 2010 at Fort Benning in Georgia, where the Army stationed him with a wounded warriors unit. The drugs he overdosed on came from military doctors at Fort Benning.
+++
The future for VA patients is unclear, though some have high hopes. Gallagher says that he's seen a large infusion of money and an increase in focus on pain management for veterans during his time at the VA. "Whereas when I was there we only had one and a half positions [dedicated to this issue], now they have nine."

West, the initial head of the OSI, concurs. "The corner has been turned," he said.

Rose disagrees; "It's only gotten worse," he said. "These attorneys in Washington are playing God with our lives." While he has gained a semblance of his old life after receiving a new opioid prescription in 2018, he had to get it from a private doctor outside the VA. He said that the new prescription enabled him to walk his dog, Gracie, each day without a wheelchair.

Ultimately, it is unclear whether the number of veterans overdosing on street drugs has continued to spike as the amount of opioids prescribed by VA doctors has further declined. When asked for data on heroin and fentanyl overdose rates for veterans in the years since 2016, VHA FOIA Officer Carol Farer replied — 6 ½ months after an information request was filed with the VA — that the VA had contacted all appropriate offices within their system but could find no records that would enable the agency to answer this question.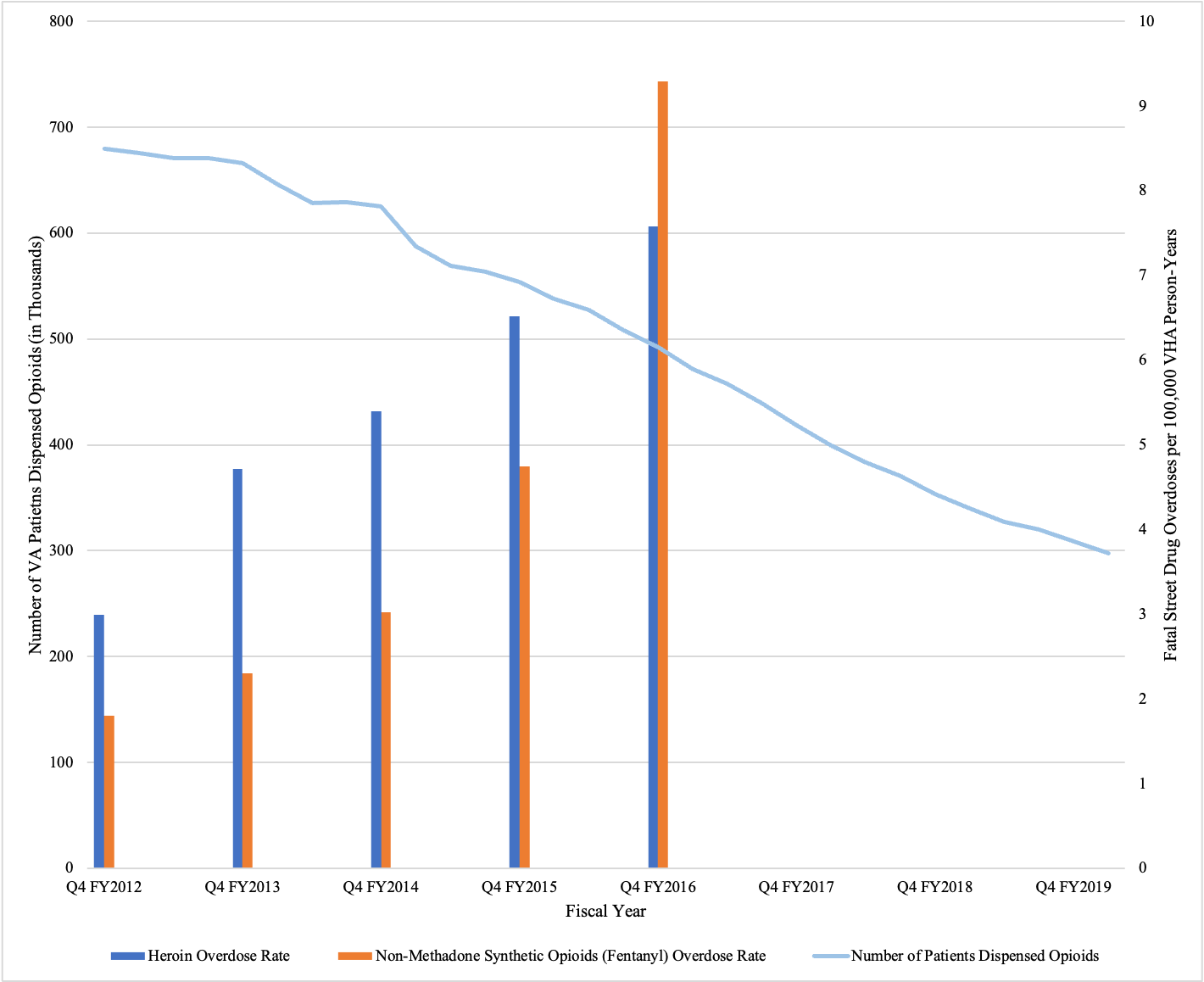 +++
Kathy Williams says that she still grieves that her grandchildren were cheated out of having a father.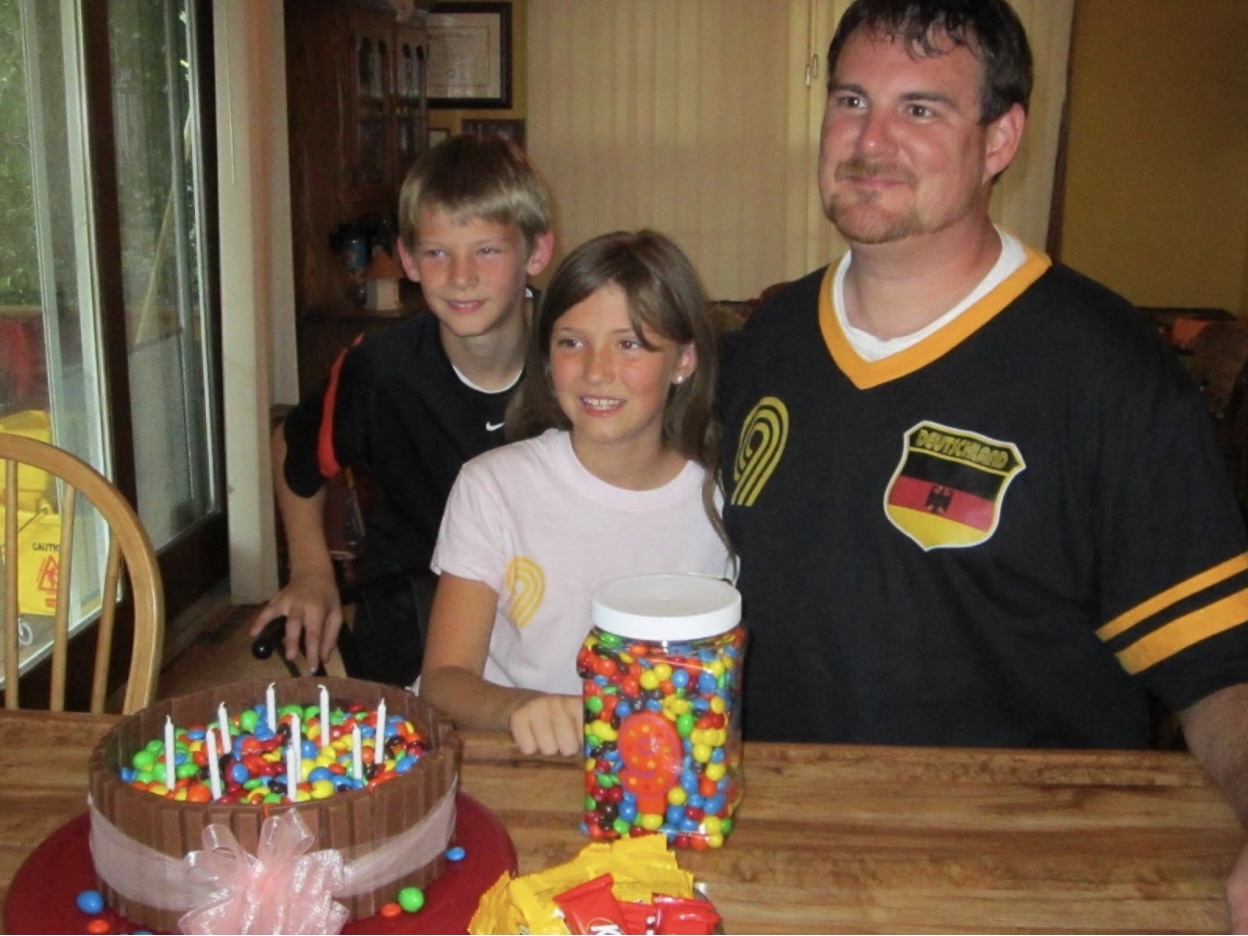 Zachariah Williams with his Children, 2012. Photo courtesy of Kathy Williams.
Cheated out of the kind of dad who would take them camping in the woods or on trips to Disney World when he was home on leave. Who brought them to church and did his best to make every birthday special. Who dressed up to take his 10-year-old daughter, Hallie, to her father-daughter dance shortly before he died, and who would play Call of Duty with his 13-year-old son, Zachariah Jr., "until the wee hours of the morning."

He never met his third child, Katerina, who was born after he died.

Asked if she still harbors any resentment toward the VA over how doctors there treated the son she lost, Kathy Williams said, "At first I was crazy angry. I can think about it and get pretty emotional and pretty upset."

She says her opinion of the VA "has changed" recently "because they're treating my other son very well." Zachariah's younger brother, Zaaron, also served in the Army. During his service, he suffered 90% hearing loss and a foot injury, according to his mother.

But when his VA doctor offered to prescribe him opioids to treat his pain, he declined.