Nine years, 329 million pills
By Olivia George and Hal Triedman
Over a period of nine years, from 2006 to 2014, more than 329 million prescription pain pills flowed into the State of Rhode Island. That's roughly 34.5 pills per state resident per year, for almost an entire decade.

According to an analysis of recently released data kept by the Drug Enforcement Administration (DEA) that tracks opioid shipments throughout the United States, 345 pharmacies across Rhode Island distributed hundreds of millions of oxycodone and hydrocodone pills during the first wave of the opioid epidemic.

And as the epidemic claimed more lives, tens of millions of pills kept flowing into Rhode Island every year.

From 2006 to 2014, the height of the prescription opioid epidemic, 1,277 Rhode Islanders died of opioid-related drug overdoses, according to CDC mortality data. High rates of overdose deaths continue to plague Rhode Island: In 2018, the state had the eleventh-highest age-adjusted overdose rate in the country. And in 2020, more people in the state died of opioid overdoses than in any previous years, according to RI Department of Health data.

CVS dominated the state's retail opioid market from 2006 through 2014, buying 150.7 million pills to distribute to consumers, 45.7 percent of the total number, an analysis of the DEA data shows.

Other chain pharmacies like Maxi Drug (owned by Rite Aid), Walgreens and Walmart comprised 40.2 percent of the total supply. And independently owned pharmacies made up 14.1 percent of the pills that flowed into Rhode Island.

From 2006 to 2014, it was the state's largely white, middle-class communities that received the largest amount of prescription pain pills per capita. But it was the poorest and least white municipalities in the state that incurred the most fatal overdose deaths, prompting the question: how are rates of prescription tied to future overdose crises?

CVS distributed a plurality of opioid pills in RI between 2006 and 2014 — 45.8% . Other chain pharmacies distributed 40.1%, and independent pharmacies distributed 14.1%. Data: DEA ARCOS database. Credit: Hal Triedman.
For many years, the DEA database tracking opioid shipments was kept secret. But the Washington Post and HD Media waged a lengthy legal battle to get the DEA data from 2006 through 2012. The DEA data, known as the Automation of Reports and Consolidated Orders System (ARCOS), was finally made public by US District Judge Dan Polster in the Northern District of Ohio in 2019.

Last year, two additional years of data — 2013 and 2014 — were posted by a data analytics company working on behalf of the plaintiffs' lawyers in a lawsuit against the opioid industry.

Rhode Island lawmakers have taken action in recent years to combat the opioid epidemic, implementing various legislative and regulatory tools which make it more difficult for patients to doctor-shop and pharmacy-shop to secure large stashes of prescription opioids. The state has also instituted safeguards that make it more difficult for doctors to over-prescribe such drugs.

In 2019, overdose deaths in Rhode Island from prescription drugs alone reached their lowest point since 2009. Data from the state's Prescription Drug Management Program (PDMP) shows that new opioid prescriptions and total opioid prescriptions have decreased by 35 percent and 28 percent, respectively, since the beginning of 2017. Medication assisted treatment and naloxone are more accessible than ever.

While some people become addicted after receiving an opioid prescription from their doctor, 50 percent start by using drugs not prescribed to them but obtained from a friend or family member, according to surveys conducted for the government's National Household Survey on Drug Use and Health. A 2016 review published in the New England Journal of Medicine put the risk of new addiction at less than eight percent for people prescribed opioids for chronic, nonmalignant pain.

A 2017 Washington University of St. Louis study showed that, over a decade from 2005-2015, a majority of drug users seeking substance abuse treatment got addicted by using prescription pain pills. And recent research from the Rhode Island Department of Health showed that 64 percent of the people who died of an opioid overdose between January 2016 and June 2020 had previously received an opioid prescription.

In that context, the DEA distribution data used for this investigation paints a chilling portrait — one of a state inundated by pain pills for nearly a decade, still suffering fatal consequences years later.
+++
Over a nine year period beginning in 2006, the municipalities in Rhode Island that received the most oxycodone and hydrocodone pills per capita were middle-class, mostly white towns: Richmond, North Smithfield, Johnston and Coventry. They were also the towns that had more pharmacies per capita. Richmond, for example, is a town with only 7,708 people in the 2010 census — but it had seven pharmacies, which collectively distributed 4,658,640 oxycodone and hydrocodone pills.

The top four per capita recipients of pills per person were Richmond, North Smithfield, Johnston and Coventry. Data: DEA ARCOS Database and 2010 US Census. Credit: Hal Triedman.
But most of the communities that historically received the highest influx of pain pills are not currently bearing the brunt of the opioid epidemic. Between 2014 and 2019, three of the top four per capita recipients of pills — Richmond, North Smithfield, and Coventry — had overdose rates that were below the state average, according to data from the Rhode Island Department of Health.

Meanwhile, apart from the outlier of New Shoreham (Block Island), which has been hit particularly hard by fatal opioid overdoses, it was the poorest and least white municipalities in the state — Woonsocket, Providence, Central Falls and Pawtucket — that suffered the highest rates of fatal opioid overdoses.

In addition to New Shoreham (Block Island), which has a tiny population that amplifies the effects of an overdose, the hardest-hit municipalities by the opioid epidemic were the poorest and least-white in RI. Municipalities with fewer than five overdoses are marked with "-". Data: Prevent Overdose RI, 2010 US Census. Credit: Hal Triedman.
The data underscores how the worst effects of the opioid epidemic broadly fall along existing lines of race and class: the top 10 towns with the highest per capita incomes all had overdose rates below the state average. Two of the wealthiest communities in Rhode Island per capita, Jamestown and Little Compton, reported fewer than five overdoses between 2014 and 2019.

Local store, state-wide impact
CVS, the nation's largest pharmacy chain, is headquartered in Woonsocket, RI. But despite the corporation's commanding statewide share of the prescription opioid market and homebase in Rhode Island, the single pharmacy in the state that distributed the most amount of opioids was an independent pharmacy called Phred's Drugs.

Phred's Drugs was founded by Michael J. Rossi Jr. in 1955 and was, until its closure, owned and operated by three generations of the Rossi family, the Cranston Herald reported.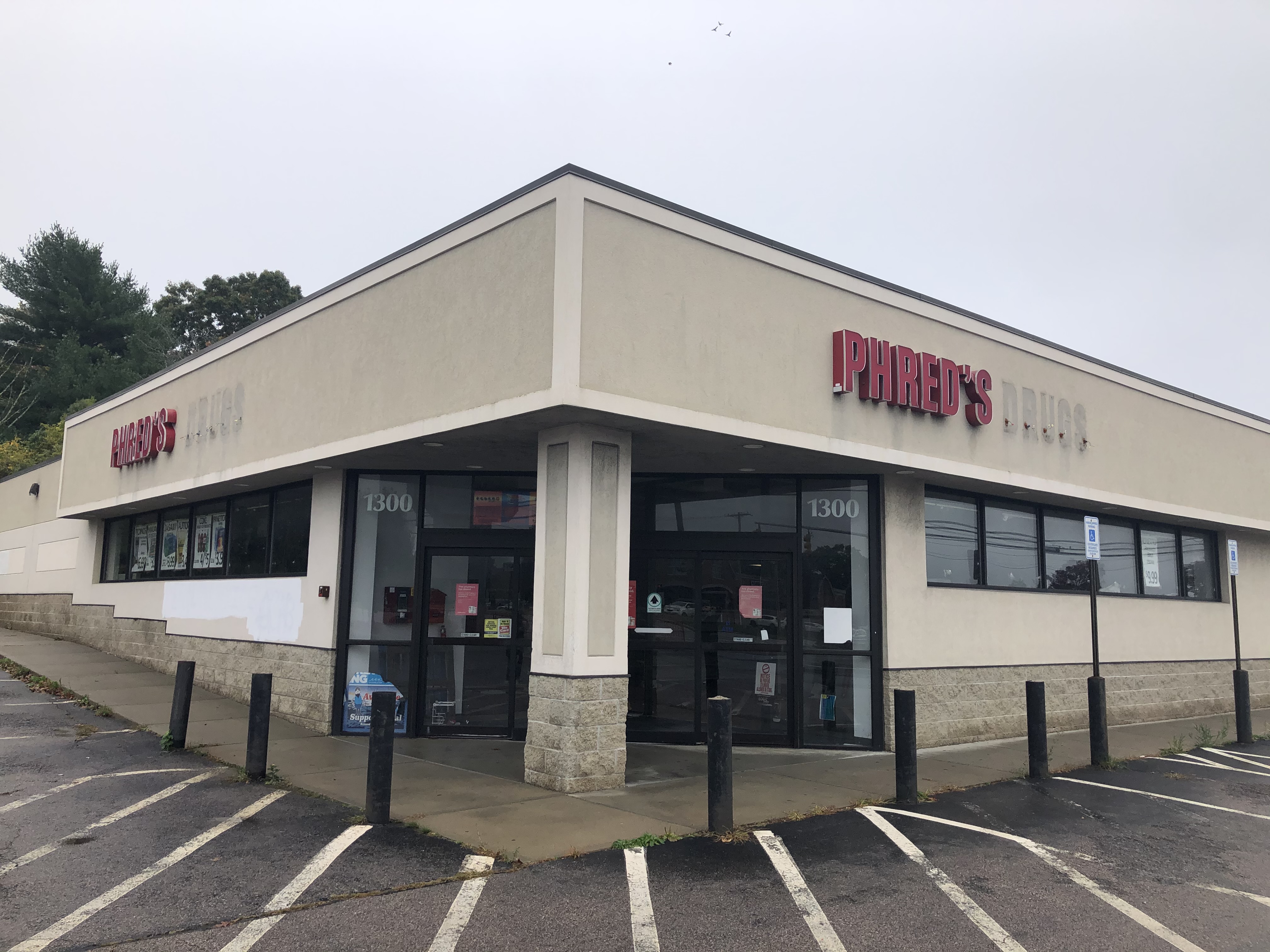 Phred's Drugs in 2020. The pharmacy closed in 2018 after being acquired by CVS. It was the largest pharmacy distributing opioid pills in Rhode Island between 2006 and 2014. Photo by Hal Triedman.
The family-run pharmacy, based in Cranston, purchased more than 7.3 million pills that contained hydrocodone and oxycodone from 2006 through 2014, according to DEA data. Phred's closed its doors in 2018 after being acquired by CVS.

According to DEA records, Phred's received the largest number of oxycodone and hydrocodone pills of any single pharmacy in Rhode Island — and was the sixth-largest recipient in all of New England.

"Phred's Drugs was one of the busiest pharmacies in Rhode Island, in one of Rhode Island's more densely populated communities," wrote Joseph Wendelken, public information officer for the state's Department of Health in an email when asked about the data.

Charles Rossi, a 65-year-old retired pharmacist who owned Phred's at the time of its closure, declined to comment for this story. When these reporters went to his Cranston home in an attempt to interview him, he answered the door and seemed open to talking, providing the reporters with his phone number. But over the following weeks, Rossi did not respond to half a dozen phone calls made to the number he provided. After the reporters sent a letter to his home requesting an interview about the volume of opioids dispensed by his pharmacy, his lawyer, Melody Alger, responded on his behalf in a letter sent by email. Alger's office, Alger Law LLC, represented Phred's Drugs during 2006-2014, she wrote.

"It is undisputed that Phred's total pharmaceutical sales — not just opioids — exceeded those of any other independent pharmacy in the state," Alger wrote.

"Phred's Drugs was the largest independent pharmacy in the State of Rhode Island. Other than private customers, Phred's serviced a large number of Rhode Island institutional and state contracts including group homes, nursing homes, assisted living facilities and the Rhode Island Department of Corrections," she said.

In a subsequent phone call, Alger said she was unable to provide corroborating documents or further details on the scale and nature of such contracts because Rossi no longer had access to the sales information.

She added in a later email: "On the infrequent occasions that questions concerning the prescription order arose, it was the policy of Phred's to call the prescriber for verification or clarification before the prescription medication was dispensed."

A public records request for documentation of whether state authorities bought medications from Phred's found that three state agencies paid the pharmacy just over $100,000 between 2003 and 2014. The significant majority of that money ($80,567) consisted of reimbursements for HIV/AIDS treatment for uninsured and underinsured patients — not opioids.

The state's Transparency Portal, which charts Rhode Island purchasing awards worth more than $1 million since July 1, 2012, shows no contracts of this value given to Phred's or the Rossi family.

The role of large chains
But Phred's distribution of oxycodone and hydrocodone only accounted for about two percent of the state supply. Chain pharmacies like CVS, Maxi Drug, and Walgreens collectively accounted for more than 282.6 million pills — 85.9 percent of all the pain pills flowing into Rhode Island.

When asked for comment, Michael DeAngelis, senior director of corporate communications at CVS, wrote in an email that it was unfair and wrong to blame pharmacies for opioid deaths or the flood of opioids into the Rhode Island market. "Opioids are made and marketed by drug manufacturers, not pharmacists," he wrote. "Pharmacists dispense opioid prescriptions written by a licensed physician for a legitimate medical need."

He said that CVS has "been a leader in helping to fight opioid misuse and abuse, developing effective educational programs for patients and providers, creating thousands of safe medication disposal sites and expanding access to life saving overdose reversal drugs."

But a lawsuit filed in federal court in Cleveland by two Ohio counties argues that large pharmacy chains including CVS were as complicit in perpetuating the opioid crisis as the manufacturers and prescribers of the addictive drugs.

The lawsuit, filed in May 2020, claims that the chains ignored a responsibility to provide effective controls against opioid misuse and engaged in unsafe practices that brought a glut of powerful painkillers into Ohio, a state which has been devastated by the opioid epidemic.

"Retail pharmacy chains earned enormous profits by flooding the country with prescription opioids. They were keenly aware of the oversupply of prescription opioids through the extensive data and information they developed and maintained as both distributors and retail sellers of opioids," the lawsuit reads. "Yet, instead of taking any meaningful action to stem the flow of opioids into communities, they continued to participate in the oversupply and profit from it."

The lawsuit also alleges that CVS repeatedly joined with manufacturers to train its pharmacists about their drugs."CVS was so eager to ally itself with Purdue that it solicited Purdue for its participation in co-hosting Continuing Education programs for health care providers and pharmacists regarding training on diversion of prescription opioids," the lawsuit says.

"The plaintiffs' allegations about CVS have no merit and we are aggressively defending against them," DeAngelis wrote.

He declined to say whether CVS has a company-wide reporting policy for suspicious orders. He also declined to say whether any orders in Rhode Island were flagged by CVS pharmacists as suspicious from 2006 through 2014, and what the threshold is for quantities of prescription pain pills that might trigger a report as suspicious.

But records kept by the state's Board of Medical Licensure & Discipline show that it was two CVS pharmacists (one at a CVS in Central Falls, the other in Johnston) who flagged prescriptions of orthopedic surgeon Dr. Christopher Huntington which led him to be stripped of his license to practice for overprescribing opioids in 2013.

Corresponding responsibility
Pharmacists must follow a DEA rule called corresponding responsibility — in simple terms, it means they have a duty to make sure that a medication has a legitimate medical purpose.

"Are there clear things that are suspicious?" said Jeffrey Bratberg, clinical professor with the University Rhode Island College of Pharmacy. "Oh yeah, very much so."

But most circumstances, he added, are not that black and white. Before there were electronic systems in place and improved pathways of communication between prescribers and pharmacists, it could be challenging for pharmacists to figure out patients' needs were illegitimate.

"Pharmacists have the least information of anybody," Bratberg said. "If you come into my pharmacy and you've got a legitimate prescription from a physician who is in good standing with the right DEA license, should I dismiss it?"

Other health professionals cautioned against judging pharmacies based only on the number of opioids they handled, explaining that there may be legitimate reasons for large volumes. "It could be a function of geography," said Dr. James McDonald, medical director of the state Department of Health, including proximity to surgical centers and demographics of the surrounding area.

McDonald praised pharmacists as allies in ongoing efforts to reduce prescription misuse. "They've been good at filing complaints when the doctors weren't taking their advice," he said. "They've refused to fill prescriptions that weren't legitimate."

"It was just so easy": Pharmacy shopping
At the depths of the crisis, some Rhode Islanders engaged in pharmacy- and doctor-shopping — travelling to different pharmacies in the hope of getting a prescription filled somewhere or filled multiple times.

"I don't know how often it occurred," Dr. McDonald said of this shopping around. "But it occurred enough that I heard about it."

Through legislative efforts and regulatory changes, progress has been made, he added. The Prescription Drug Monitoring Program, which electronically tracks controlled substance prescriptions, has become an essential tool in ensuring fewer people can successfully stockpile or divert large amounts of opioids.

This allows the Department of Health to monitor aberrant prescribing practices and to see if patients are engaging in pharmacy- or provider-shopping. The PDMP will alert a physician if a patient is doctor shopping — visiting more than four pharmacies and more than four prescribers within six months — to obtain controlled substances. "It's a historical problem, not a present day problem," McDonald said. In a recent interview, however, he said that the Board of Medical Licensure does not actively surveil the prescription patterns of doctors, so does not know what percentage of licensed physicians refer to the PDMP even though they are mandated by state law to do so.

Forty-six states currently require the mandatory use of PDMP systems. And as of 2020, Rhode Island had PDMP data sharing agreements with 28 states, according to data from the PDMP Training and Technical Assistance Center. This helps prevent people who are trying to stockpile prescriptions for opioids from getting prescriptions from doctors in states where they don't reside. But a 2016 New England Journal of Medicine review of the literature about opioids and chronic pain says that although PDMPs "have been shown to help health care professionals reduce doctor shopping and overdoses, their use by health care providers is inconsistent," reflecting the fact that "PDMPs are voluntary programs in many states."

Last line of defense
In recent years, Rhode Island has taken steps to strengthen pharmacists' ability to serve as the last line of defense against prescription opioid abuse. "Pharmacies aren't advocating for opioids," Bratberg said. "But they are sometimes the last line of check to say: 'Hey, did your provider really tell you about the risk of this opioid?'"

"Have pharmacists been doing that? Ten years ago, probably not."

Now, there are systems in place to make sure that pharmacists have the information they need.

In January of 2017, the Rhode Island General Assembly passed legislation mandating that all Rhode Island prescribers sign and transmit electronic prescriptions for controlled substances. This provides a digital papertrail of sorts, enabling providers to send prescriptions directly to pharmacies as a way to counter fraud.

Since 2018, a state law has required prescribers to include a diagnosis code on any controlled substance prescriptions. These codes, called ICD-10s, allow pharmacists to know exactly what disease or ailment the medication has been prescribed for.

And because all controlled substances go into the Prescription Drug Monitoring Program, state officials are also able to track patterns of which drugs are being prescribed for which reasons, Bratberg added. "Information is important. Data is important."
+++
Two years after the Phred's building at 1300 Oaklawn Avenue was sold to CVS, it sits empty and in disrepair.

Prescription pills misuse has waned — "the crisis is no longer a prescription opioid crisis," Bratberg said — but the epidemic is far from over.

In recent years, illicitly manufactured fentanyl, often sold as heroin, has driven overdose deaths. In 2018, Rhode Island had the eleventh-highest rate of opioid-related overdose deaths in the country.

And, after falling over recent years, fatal overdose rates have jumped amid the COVID-19 pandemic. There were more than 400 overdose deaths statewide last year, a 25 percent increase from the 2016 record.

As the overdose death toll continues to climb, McDonald remains positive about the role of pharmacists as doctors try to move beyond their days of overprescribing while still remaining responsible for treating patients with chronic pain. "I view them more as a partner," he said of pharmacists. "And part of the solution."

— Data processing and analysis for this story was done by Hal Triedman and Iris Lee