Policing Drug Crimes in Providence
By Marina Hunt
Detective Eduardo Curi was working undercover in the West End of Providence around 3pm on a Monday in early March of last year when he noticed a 21-year-old woman waving down cars on Cranston Street. When he approached, she asked him "what are you looking for, you want to party?" Curi told her yes, so she got in on the passenger side of the unmarked cruiser. She then asked the detective if he was looking for "hard," a street term for cocaine.

A few phone calls later, the young woman reached her supplier. They drove to a meeting spot on Hanover Street and Curi handed a $50 bill to his passenger, who got out and walked to the parking lot squeezed between Fabian Liquors and a graffitied three-story home equipped with a surveillance camera. A 19-year-old girl dressed in black awaited. Other detectives watched from their post on Hanover Street as the $50 was exchanged for three plastic baggies of cocaine.

Around the same time at the entrance of Merino Park, Patrolman Brendan McKenna conducted a traffic stop after watching a parked red Dodge Caravan jolt into motion, the passenger side door still open. The driver had noticed the marked police car. As McKenna began trailing the car, a passenger tossed a small white object out the window. The car came to a stop and McKenna approached.

Upon exiting the vehicle, Hector Castro, 42, admitted to being a heroin user, but said he only had marijuana on him. A quick search of the car, however, turned up several hypodermic needles and alcohol prep kits, telltale ingredients of narcotics use.

The imminent arrival of a narcotics K9 persuaded Castro to fess up and guide the officers to the dashboard of his car. After dismantling the driver's side air vent and headlight control panel, officers found a hidden stack of packets wrapped with a rubber band containing 50 wax baggies of heroin marked "the reaper." Castro was put in handcuffs and charged with possession of a controlled substance, a felony.

Back at Fabian Liquors, three detectives approached the 19-year-old girl who'd sold the cocaine, handcuffed her, and asked if she had anything else on her. Yes, she said, before spitting out five plastic baggies of cocaine from her mouth, a common hiding spot for dealers attempting to conceal drugs from police. She was charged with drug conspiracy, possession with intent to deliver cocaine and delivery of cocaine. The young woman who had bought the drugs for Detective Curi was charged with drug conspiracy and delivery of cocaine as well.

Two others were arrested that day for possession with intent to deliver heroin, ecstasy, and cocaine. Before the sun had set on that Monday afternoon, Providence Police officers had arrested five people for drug offenses and seized 10 baggies of cocaine, around 70 packets of heroin, one large bag of suspected ecstasy pills and three baggies of suspected marijuana. Over the next 5 days, Providence police would charge 25 more people with narcotics offenses throughout the city.
+++
The Providence Police Department (PPD) is on the front lines of an opioid epidemic that has saturated Rhode Island through pharmacies, pill-pushing doctors and drug dealers ranging from street level distributors, often users selling to pay for their own habit, to high-level "drug king-pins," according to Chief of Police Hugh T. Clements Jr.

Responsible for applying the law to curb the illegal distribution of potentially fatal drugs, and also for responding to the scene of reported overdoses, the PPD is working from both ends to address the dual crisis in public safety and public health introduced by the opioid epidemic.

Rhode Island ranked 11th in fatal overdoses nationwide in 2018, and from 2018 to 2020, at least 185 people died of overdose in Providence. According to the Rhode Island Public Health Institute, 92% of overdose deaths in Rhode Island in 2019 involved at least one illicit substance, including heroin, illicitly-manufactured fentanyl, cocaine, and methamphetamine.

With calls to defund the police reaching a nationwide crescendo in 2020, police departments across the country are under growing pressure to reassess how funds are used, and the ways police officers engage with the communities they serve. And arrests for simple possession of drugs are under particular scrutiny for contributing significantly to racial and ethnic disparities in the criminal justice system.

Still, police officers continue to be tasked with being the first to respond to all kinds of drug-related activity and harms, as well as the criminal behaviors that often result from drug use.

Between administering naloxone while on patrol, responding to reported overdoses, witnessing drug deals, and finding people in possession of drugs while engaged in other criminal activity, Providence Police patrol officers come face to face with the opioid crisis on a daily basis.

And while drug offenses comprise just a small portion of the situations they respond to, "it's not just the drugs, it's the things that drugs bring with them," said Lieutenant James Barros, commander of the police districts encompassing South Providence, Elmwood, Washington Park and Reservoir. Robberies, home invasions, shootings—"a lot of these things are driven by drugs," he said.

Detectives of the PPD's Narcotics Bureau are well acquainted with this phenomenon, encountering not just drug dealers but also organized crime, illegal firearms and gang activity, said Sergeant Kristopher Poplaski, who supervises 11 detectives.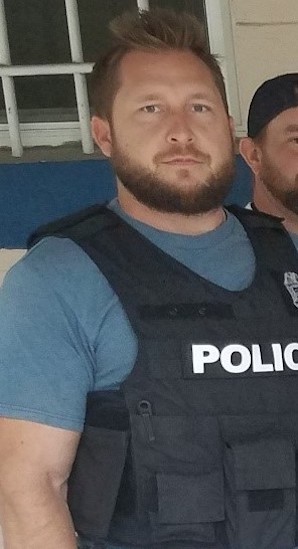 Sgt. Kristopher Poplaski has investigated drug trafficking and organized crime in Providence for 11 years. Photo courtesy of Kristopher Poplaski.
In 2019, the Bureau's unit executed 116 search warrants, seized 47 firearms and 3 vehicles. Around 370 people were charged by the unit and a total of $137,104 was seized by detectives. As the result of one investigation in Mt. Pleasant that year, the unit seized 2 kilos of fentanyl, 1 kilo of cocaine, 1 kilo of heroin, and 2,421 pills of oxycodone, as well as 7 firearms including a 12 gauge shotgun and a rifle.

Narcotics detectives split much of their time between short-term investigations into street level dealers and longer ones involving more surveillance and intelligence gathering into major traffickers. Detectives also respond to the scenes of fatal overdoses to collect evidence that might lead to the source of deadly drugs, and address daily complaints of drug activity from the community.
+++
Attempting to better understand how police resources are being used to address the symptoms and community impacts of drug use in Providence, we obtained police reports for every narcotics incident during the first week in March of 2020, the busiest week for narcotics violations recorded by the Providence Police Department last year.

Twenty four narcotics incidents were recorded across the week. Ten of these incidents resulted from proactive investigations by narcotics detectives, nine from traffic stops by patrol officers, four from pedestrian stops, and one from a dispatch call for shots fired.

The PPD also received four calls for service that week from citizens reporting narcotics activity that did not lead to arrests, and 12 calls for reported overdoses, one of which was fatal.

Thirty people were charged with drug offenses, 28 of whom were taken into custody, and some during the same incident. Four people were charged with unlawful delivery of heroin or cocaine, eight with possession with intent to deliver narcotics, 14 with simple possession of drugs and five with some combination of these charges.

Thirteen of those charged were black; 16 were white. The race of one individual was listed as unknown. Police reports do not mention whether a person identifies as Hispanic or Latino, identifying them instead as white.

Drug offenses recorded during the busiest week in 2020 of drug crimes in Providence. Data: Providence Police Department incident reports. Map by Marina Hunt.
Eight of the week's offenses took place on Federal Hill and in the West End, five in South Providence and Elmwood. The rest were scattered across the north side of the city, according to police reports. During this week, no drug charges were recorded on the East Side of Providence.

While the Narcotics Bureau addresses drug activity at all levels, with some investigations stemming from intelligence gathered by undercover detectives or civilian informants, most often they result from information called in by community members, according to the police.

Some are people police officers have cultivated individual relationships with over their years in service. "You'd be surprised how many people want to help," said Poplaski, who has been a Providence Police officer for 16 years, 11 of which he's spent investigating organized crime and drug trafficking across the city.

Recently, Poplaski recalls, he stopped for food at a drive thru and found that an employee had written a phone number on the back of the receipt. She was the mother of a young man Poplaski had arrested years earlier and she wanted to share information about a suspected drug dealer.

Calls also come in from business owners reporting drug activity at their storefront or residents reporting suspected drug activity at the house next door, on the street corner, by the neighborhood playground.

Detectives coordinate with patrol officers to address daily complaints of narcotics activity across the city, but they also dedicate a few hours each day focused on long-term investigations in areas with high volumes of community complaints, said Poplaski.
+++
An employee at Rita's Pizza on Cranston Street in the West End says she sees the same people using and dealing in front of the restaurant year after year. There's the woman who regularly appears high and naked, cutting herself in the middle of the street; the fights; the littered needles she's afraid will pierce the soles of her shoes when she walks to her car each night.

"We used to complain, but now we just walk by it," she said. "It's normal."

Two doors down, the owner of Fabian Liquors often sees people shooting up at her storefront. Customers have told her they've been unable to visit her store at times because of the frequent drug transactions outside.

They are two of many community members who have called the police to report drug activity on Cranston Street.

The West End neighborhood around Fabian Liquors has in recent years been a hotspot for narcotics activity. During this week in March, seven narcotics incidents took place within a few blocks of the store. Most of these were part of a "roundup" that happened that week, concluding a three month investigation into 25 dealers in the West End, charged with dealing cocaine, fentanyl, heroin and methamphetamine, according to Poplaski.

None were found with a large enough quantity of drugs to suggest they were major traffickers. But investigations into lower level dealers often furnish information that might lead to the higher echelon dealers, for whom street dealers serve as a distribution network, Poplaski said.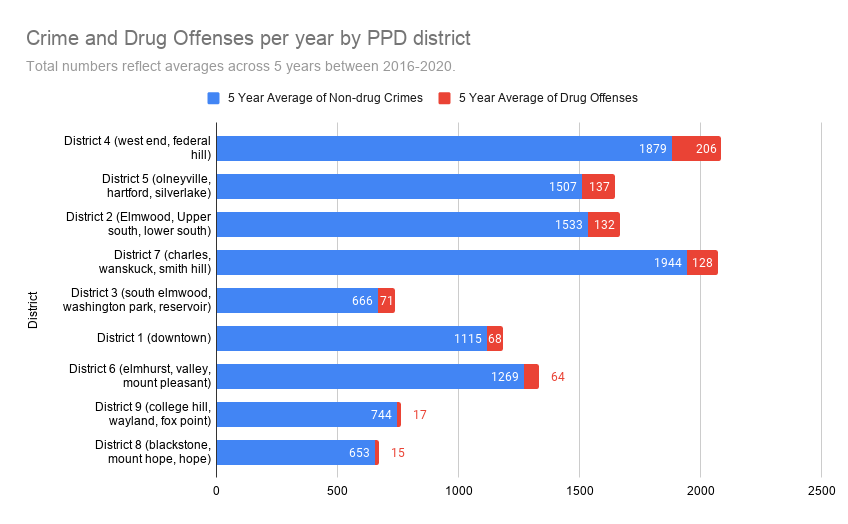 The police district encompassing the West End and Federal Hill has seen the highest yearly average of overall crimes and drug crimes in Providence over the last five years. Data: Providence Police Department Records. Graphic: Jane Yue Yang.
Police records show that over the last five years, the police district encompassing Federal Hill and the West End has seen the highest average number of overall criminal offenses compared with other districts. The yearly average of 2,085 criminal offenses in this area constitutes 16% of criminal offenses citywide, even though it encompasses a smaller area than most other districts. In these two neighborhoods, 9.9% of all crimes were drug crimes, compared with a citywide average of 6.7%.
+++
On Thursday March 5, Detective Vincent LaBianca was stationed by the Dairy King ice cream shop on Cranston Street when he spotted Luis Sierra-Sanchez, 35, for whom the PPD had an active arrest warrant for delivery of heroin. Sierra-Sanchez did not resist when LaBianca handcuffed him and seized the 14 bags of heroin he was carrying. He was charged with possession with intent to deliver heroin and was held without bail for about seven weeks, but is now free awaiting trial.

Just a block away at 30 Kenwood Street, Emilio Castillo, 44, had been under surveillance for selling cocaine and heroin out of a rented basement room in a house that sits across from a playground and around the corner from an elementary school building.

After a series of controlled purchases of cocaine by a confidential informant, Detective Brian Auclair drafted a search warrant on Tuesday March 3. Around 6:30 a.m. that Thursday—within hours of Sierra-Sanchez's arrest—Detectives Auclair and Curi executed the warrant, forcing open the steel cellar door leading to the basement.

They found Castillo in the back bedroom alongside a 34-year-old woman. Scattered across the room were a digital scale, a clear bag containing cocaine base, and an unlabeled prescription bottle containing 40 white pills later confirmed to be tramadol, an opioid that carries high risk for addiction.

Castillo was charged with possession with intent to deliver cocaine and tramadol as well as drug conspiracy. At the time, he also had an active Superior Court warrant for unlawful delivery of heroin to a confidential informant, according to police reports. Castillo was held without bail until he appeared in court on June 12 and pleaded not guilty. He was released on a surety bond of $5,000.

When he returned to the rented basement room, Castillo told Florence Landim, 68, a resident and co-owner of the house with her husband, that he was no longer dealing drugs and would find a job. Then one day she went to the basement to do laundry and found Castillo using a scale to weigh a white powder, Landim said in an interview. She called the police several times attempting to get him out of her house, but he would not leave.

Months later a report for a felony assault brought detectives back to Castillo's address, said Poplaski. Castillo had put a gun to Landim's head when she again asked him to leave, following several months of unpaid rent and continued drug activity. "If you mess around with me, I'll kill you," Castillo said, according to Landim.

On September 25, Castillo appeared in court as a violator and was held without bail until October 23, when he was again released. Landim and her husband report that Castillo has since returned to the room in their basement, and has not paid rent in several months. In January 2021, Landim filed a complaint to have Castillo evicted. But because of the pandemic eviction moratorium, she fears he will continue to live there and keep selling narcotics from her basement.

"I'm so distressed," Landim said, "I can't stand on my porch, I can't stand in my backyard."

Despite the narcotics detectives' tireless work of investigating, surveilling, and coordinating with informants in pursuit of stopping dealers from distributing illicit drugs and disrupting the lives—or the homes—of Providence residents, "the system is what it is," said Poplaski.

A person may be trafficking a significant amount of drugs, but if they don't have a long criminal record, they might only go to jail for a short period of time before being released. "And a lot of the time they're engaged in the same behavior," said Poplaski.

Unlawful delivery and possession with intent to deliver charges used to lead to being held without bail for 14 days before one would get a hearing, said Poplaski. Now, people charged with dealing can complete an application for habeas corpus, ensuring them the right to a hearing, and get back out that same afternoon, said Poplaski.

Of the 15 people arrested during this week in March for possession with intent to deliver or delivery of a controlled substance, four spent no time behind bars after their arrests, six were out on bail within a month, and three spent between two and six months in prison before being released on bail, according to court records.

As for sentencing, Poplaski added, "Drug offenses are trending toward lower sentences and more leniency, even for distributors."

But each day, Poplaski witnesses the myriad ways drugs ruin lives. Just look at the mugshot of a 25-year-old and compare it to the picture of their 18-year-old selves on their license—you see what years of drug use does to a person, he said.

"I feel sometimes the punishment for the people distributing those drugs is overlooked a little bit," he added.
+++
Policing narcotics can be frustrating, officers say, because they are often arresting the same people again and again. "It's an industry they tend not to get out of easily, and they reoffend often," said Captain Kevin M. Lanni, head of the Narcotics Bureau.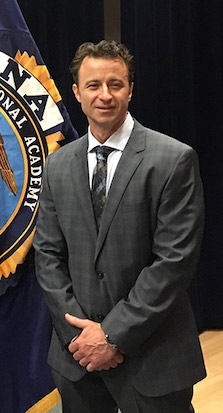 Captain Kevin M. Lanni heads the Narcotics Bureau. Photo courtesy of the Providence Police Deparment.
Of the 30 people charged during this week in March, 12 were repeat drug offenders in the State of Rhode Island, most of whom had additional felonies and/or misdemeanors on their record.

Beyond drug offenses, police also come up against the criminal patterns symptomatic of drug use: shoplifting, felony assault, breaking and entering, reckless driving, among other things.

"Some people would say you're just shoveling it against the tide sometimes, going after drug dealers," said Poplaski.

But to Poplaski, maintaining clean neighborhoods for residents, ensuring that they can walk their kids to the bus stop without having to worry about encountering drug activity or violence, is reason enough.

Lanni also has in mind the people buying from these dealers. Even in cases involving lower level dealers who may themselves be addicted, there is another victim because "they're creating another addict, Lanni said, "so it's a very tough balancing act."

Police are working with several non-profit organizations, family services, and health experts to provide the services the PPD isn't necessarily equipped to.

And the last two Providence Police Academies incorporated training on how incoming officers can better respond to a person experiencing a mental health-related crisis, and to recognize signs of overdose as well as the types of crimes drug users tend to commit, said Lanni.

"Because putting an addict in jail again and again isn't helping anyone."

In the meantime, detectives and patrol officers continue to wake up every morning ready to answer a never-ending stream of calls for reports of narcotics dealing and people overdosing. They want to apprehend dealers before they make their next delivery, before a bad batch of drugs can lead to another death.