She Lost Both Parents to Opioids But Is Thriving Under Her Grandparents' Care
By Maia Rosenfeld
Eleven-year-old Caedence Jurczyk usually calls her grandparents Grandma and Grandpa, but sometimes when her friends are over, she slips and calls them Mom and Dad. It isn't out of nowhere: her grandparents have raised her since she was born and officially adopted her when she was six years old.

But to Caedence's grandmother, Brigitte Jurczyk, the slip-up is bittersweet.

"You had a mom," Brigitte tells Caedence, referring to her daughter, Kasia Jurczyk. Kasia died of a heroin overdose at age 27, following a long struggle with opioid addiction, on September 12, 2015 — just days before Caedence's sixth birthday. Caedence's father, Derek Morell, overdosed on oxycodone two days later, after hearing about Kasia's passing.

"You're happy because you have to do what's good for her," Brigitte says of her granddaughter. "But at the same time, you're sad because … she gets further and further away from her (mom), and that's the part we struggle with."

"Someday Caedence will forget her mom," Caedence's grandfather, Craig Jurczyk, interjects. "She won't forget her spirit and everything else, but she'll forget what she looks like and stuff like that because she was so young" when her mom died.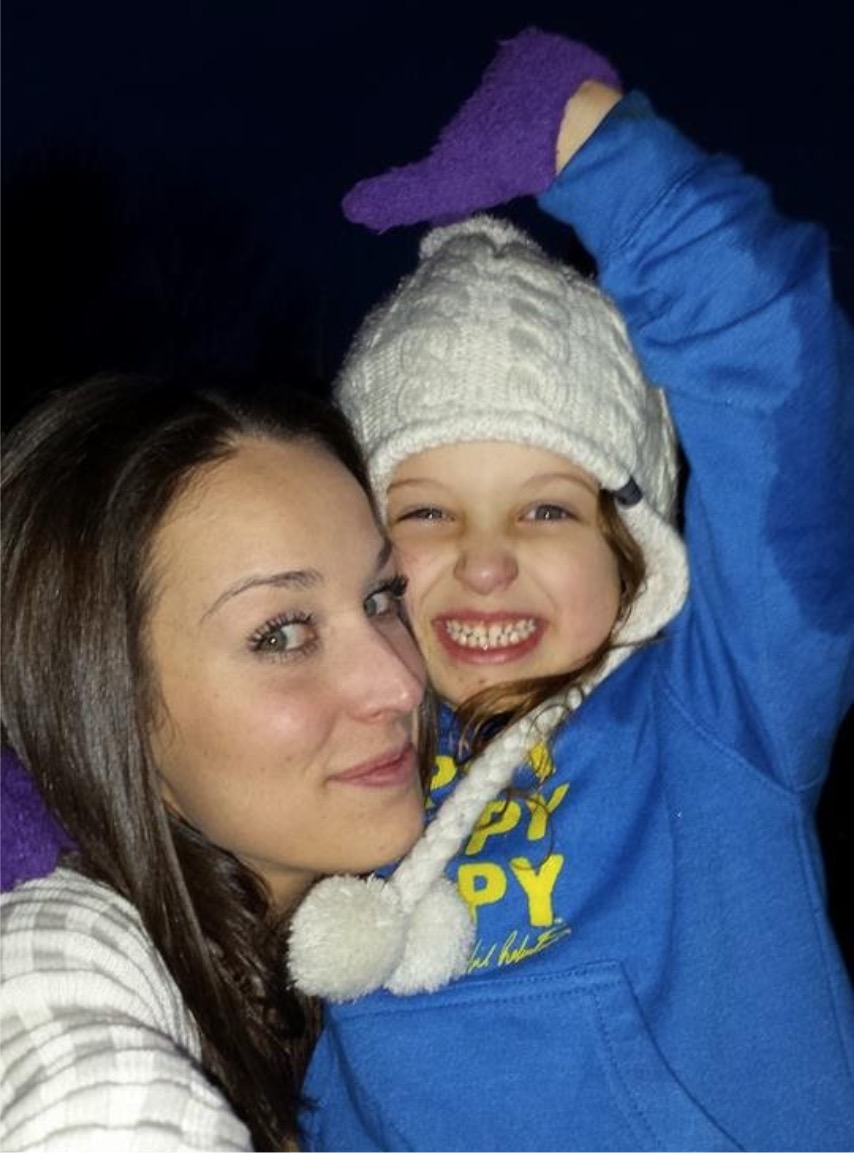 Kasia and Caedence take a selfie together in 2014, less than a year before Kasia's death. Courtesy of Brigitte Jurczyk.
To keep Caedence's memories of Kasia alive, Brigitte and Craig display photographs of their daughter all around their home in Pomfret Center, Connecticut. Dozens of pictures of Kasia, Caedence, and Kasia's 23-year-old brother Stone, who treats Caedence like a younger sister, fill the wall by the stairs. Artwork by all three of them hangs on the second floor of the saltbox Colonial.

Even more than photos, Brigitte says, videos help to keep Kasia in their memories, and "just hearing her voice" brings her some comfort. In one video, Kasia, off-screen, laughs and then tells Caedence she loves her.

"That's a heartbreaker all the time," Craig says.

"And then when I play it and then when Caedence doesn't recognize it at first … I just wish she would," adds Brigitte. "I don't know. I can't make her remember."

Although some memories may be fading, Caedence does remember happy moments with her mother — a trip to the aquarium in Atlanta and a Disney on Ice performance, where she got Mickey Mouse ears to wear.

"I have a lot" of those memories, Caedence says. "A lot of good ones."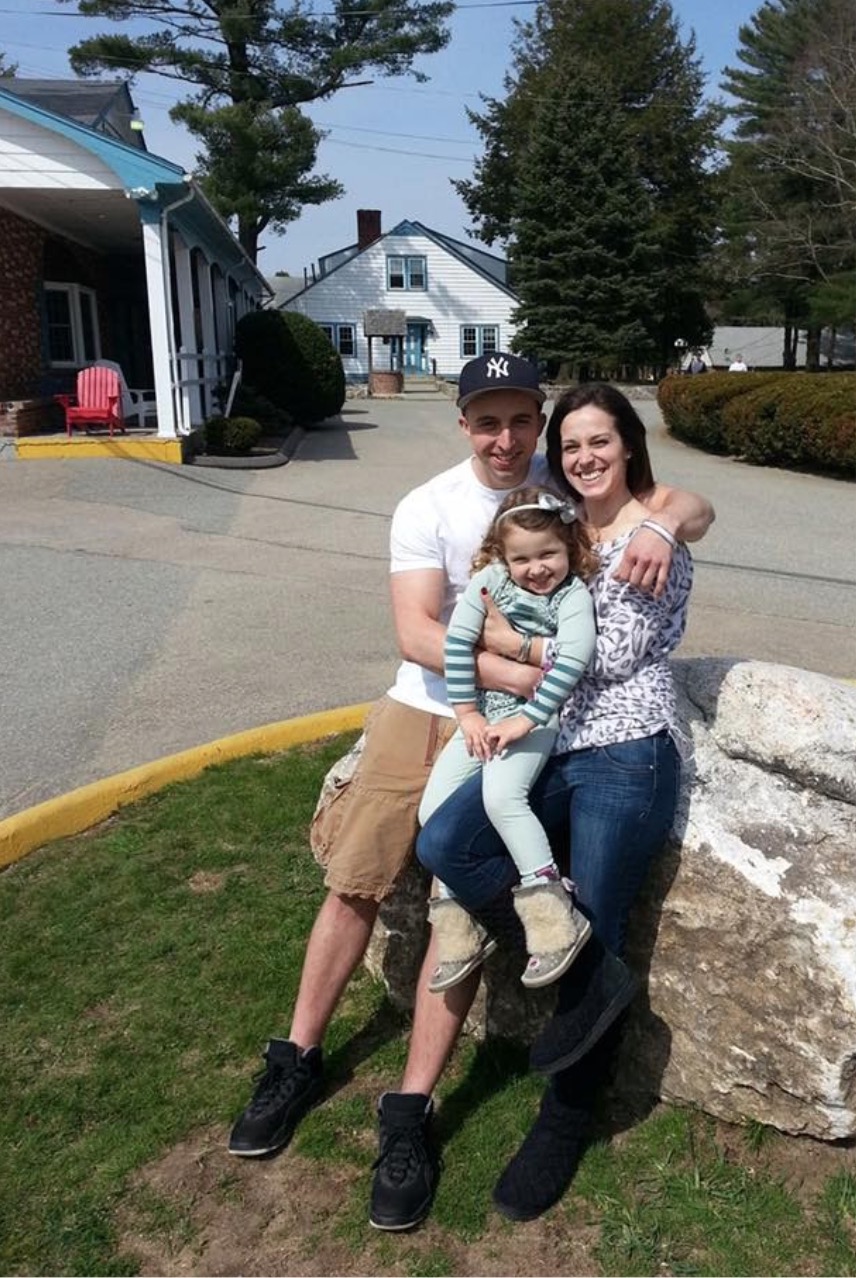 A young Caedence enjoys a summer day in Georgia with her parents in 2012. Courtesy of Brigitte Jurczyk.
"They had so much fun when they were together," Brigitte adds. "They didn't have a lot of time together, which is the hard part."

But Caedence has adjusted well.

"I know that more than anything what Kasia would want is for her to be happy," Brigitte says.

And she is. Caedence loves playing with her family's three dogs and hopes to add a Huskydoodle to the mix. Her bedroom is painted fuchsia with one zebra print wall, a teal carpet and a crystal chandelier. "Nothing matches," she says cheerfully, "but it's fine."

Caedence enjoys gymnastics — which she's been doing since she was two, when her mother signed her up. She dreams of becoming a biomedical engineer — following in the footsteps of her "big brother" Stone, a mechanical engineer with a degree from the University of Rhode Island School of Engineering. Now in sixth grade, her favorite subject is social studies. Her grandmother says she is "extremely watchful over her grades" and especially good at math.

If she had her way, Caedence would be taking horseback riding lessons and entering competitions for gymnastics and trampoline, Brigitte says. But all these activities would be too expensive for Brigitte and Craig to support.

"These are the things that people don't realize," Brigitte says. "We've taken a child, we've raised her since birth. I am 57 years old. I'm supposed to be planning for retirement."

Brigitte works as a sales representative for a plastics wholesaler. Craig, who is 55, worked as a union steamfitter welder but retired early 13 years ago after being injured on the job. He receives disability benefits, but Brigitte's job is the main source of family income. Craig now takes care of the house and helps Caedence maintain her busy schedule.

Brigitte and Craig are able to support Caedence's participation in several sports, including soccer and cross-country. But as Caedence grows more committed to gymnastics and hopes to start basketball, she is considering stepping back from other sports. Her grandparents wish she would stick with soccer, because it reminds them of Kasia, who was a star soccer player at Woodstock Academy.

"When I see her out there playing I see Kasia," Brigitte says.

Caedence's soccer jersey honors her mother: she is number 30, after Kasia's birthday, April 30.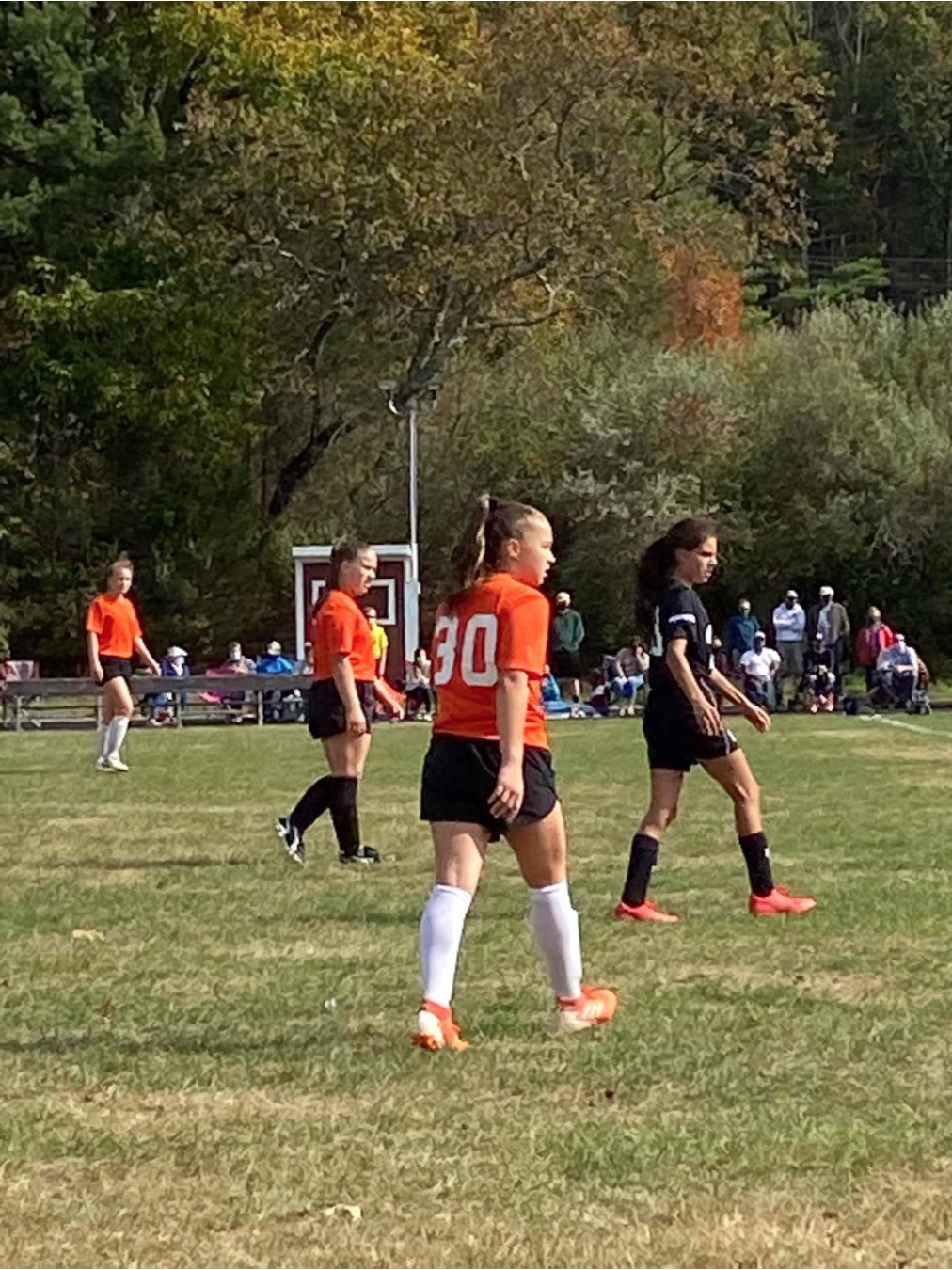 Caedence, #30, competes in a soccer game in October 2020. Courtesy of Brigitte Jurczyk.
Soccer is truly a family affair for the Jurczyks. Stone helps coach Caedence's soccer team, and Craig watches from the sidelines and tries not to yell too much — a lesson he learned after years of being a vocal spectator while Kasia and Stone played.

Beyond coaching her in soccer, Stone has played a special role in Caedence's life. "Those two are as tight as tight can get," Brigitte says.

When Stone was in college, Brigitte and Craig would sometimes drop off Caedence at his dorm room on a weekend night on their way to meet friends for dinner. He would take care of Caedence and watch Disney movies with her. His friends knew to keep the environment kid-friendly while she was there.

"He just stood up from day one," Brigitte says.

"Stone's thinking when he buys a house, Caedence is moving in with him," Craig jokes.

Stone has set an example for Caedence, inspiring in her a love of engineering and a conscientiousness about grades. He is very protective. He lets her know if he disapproves of the music she listens to, and when she was younger, he made her sit in the backseat of his car until she was big enough to safely sit up front.

"He's strict," Craig says. "She listens to him better than she listens to us, and she listens to us really well. We never have a problem with Caedence. It's extremely easy raising her."

The cause of her parents' deaths is no mystery to Caedence. Despite the heavy stigma surrounding opioid addiction, Brigitte and Craig are very open with their granddaughter, talking to her about her mother's struggles and impressing upon her the danger of addiction.

"She's raised to know that she is predisposed. It's my job to make sure that it doesn't happen to her," says Brigitte. "It's something she's always gonna have to deal with and it's got to be an open line of communication all the time."

Caedence knows that opioid addiction is an illness beyond the control of its victims, but her peers are not always as informed.

Once, while standing in the lunch line at school, a classmate told Caedence: "You don't know how your parents really died."

Caedence replied: "Of course I know. My parents died because they had an overdose."

"No, you don't know anything," her classmate retorted. "They were junkies."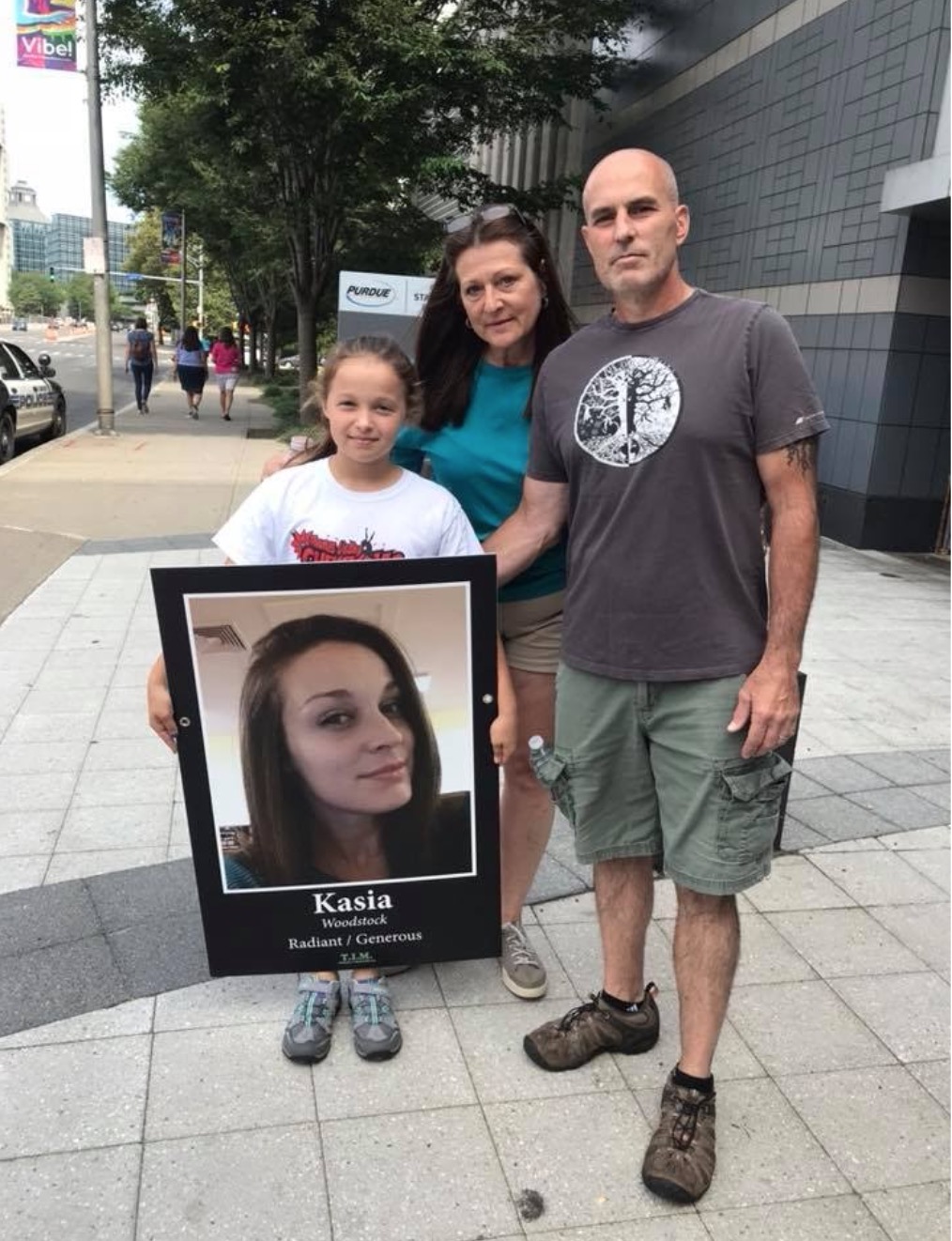 Caedence marches with her grandparents at Purdue Pharma in 2018, holding a photo of her mother. Courtesy of Brigitte Jurczyk.
Caedence marches with her grandparents in advocacy efforts, including a protest that was held at the Stamford headquarters of Purdue Pharma, a pharmaceutical company at the center of major opioid-related lawsuits, and in Washington, D.C., with the FED UP! Coalition to end the opioid epidemic. The group holds a march in the nation's capital every year.

Brigitte is adamant: "We talk about it openly, because I'm not doing this twice. And I know many parents who've lost more than one. You know, I've known parents who've lost all their children." Many of Kasia's high school classmates died from overdoses, Brigitte says.

Brigitte has also taken steps to make sure that if Caedence ever does need help, she will have resources that her mother didn't have — including a sober living facility near home. In October, Brigitte opened a recovery home for women in Northeastern Connecticut who are struggling with addiction. Caedence cut the ribbon at the opening ceremony. The house is named Kasia's Hope.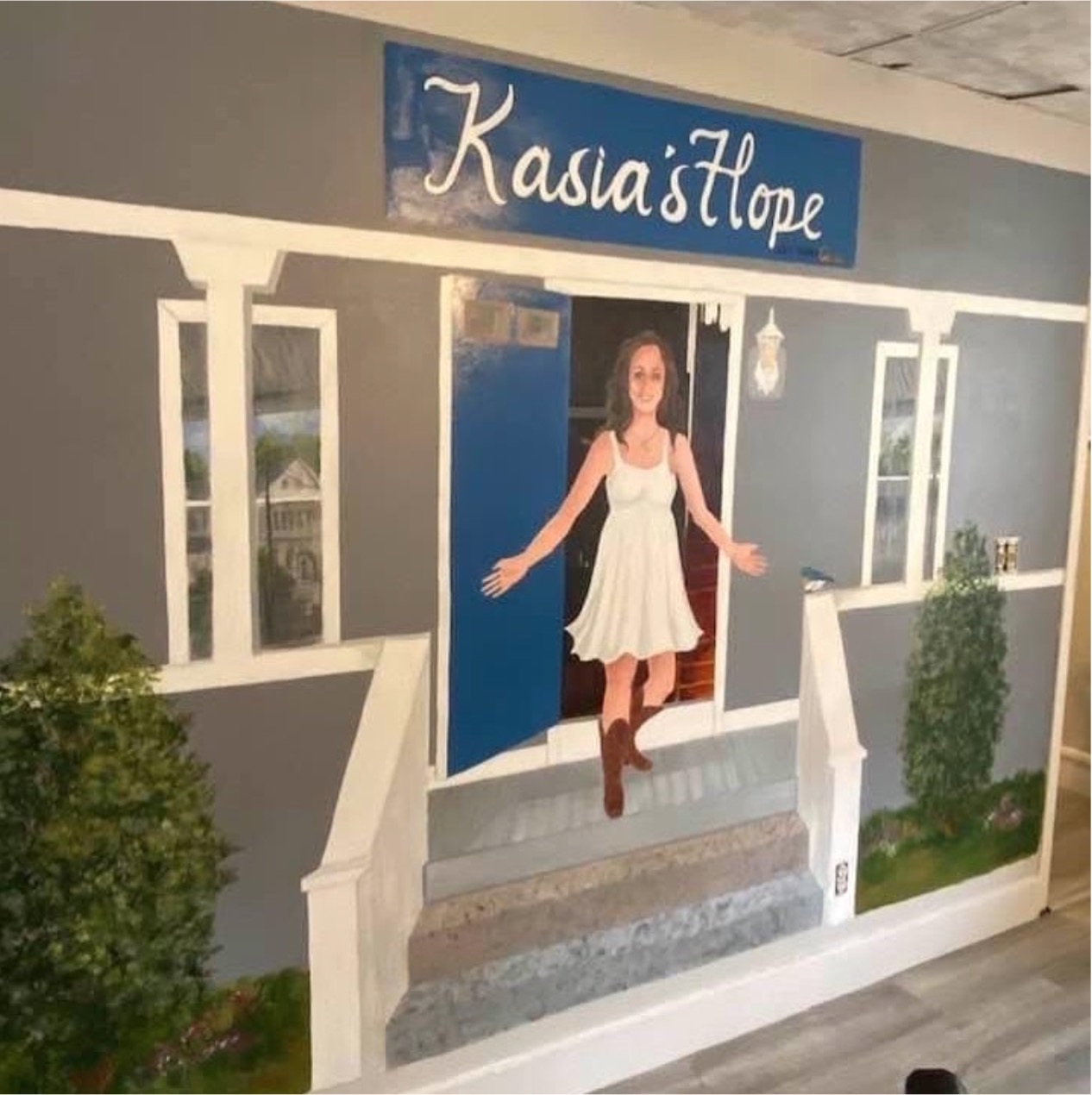 A mural of Kasia brightens the meeting room inside Kasia's Hope. Courtesy of Brigitte Jurczyk.
Caedence is a happy-go-lucky child full of spirit and drive. Still, there are the times when special events happen "and then you miss Mommy," Brigitte says to Caedence, who nods in agreement.

On her tenth birthday, Brigitte found Caedence crying in her bedroom. She came to comfort her and asked what was wrong.

"It's my double digits," Caedence told her grandmother. "And she's not here."