James L. Angell III
March 13, 1981 — January 17, 2019
By Lucas Fried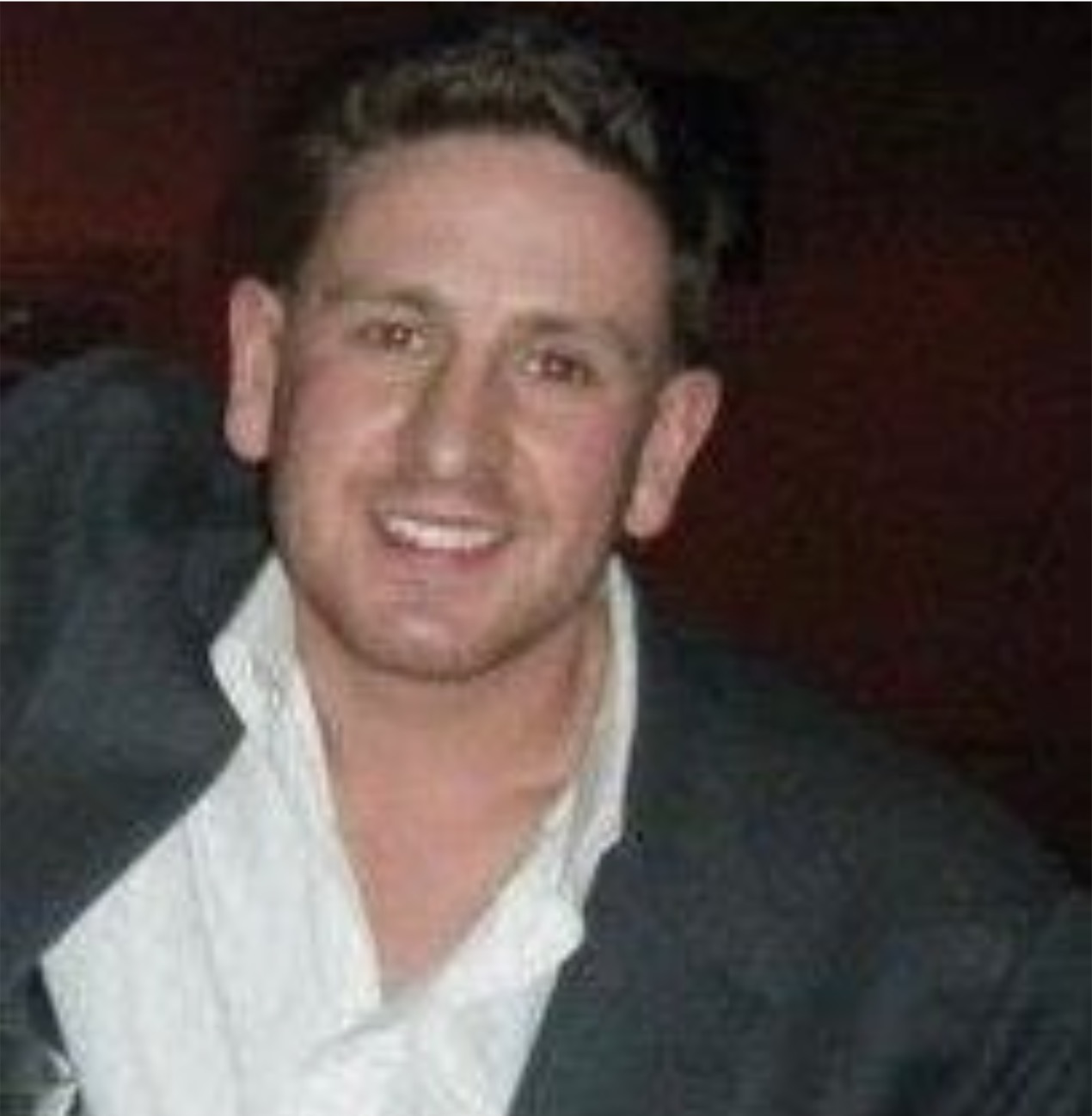 Jim at age 30. Photo courtesy of Jamie Angell.
Jim Angell had a knack for picking others up with his spirit and humor. When his sister Jamie won the 2002 basketball state championship for La Salle Academy in double overtime, he leapt from the bleachers and hoisted her into the air. A 6-foot-2-inch Jim held her above the crowd, twirling her around for all the news cameras.

Years later, when Jamie lost a finger in a work accident, she became distraught in her hospital room while waiting for surgery, which had been delayed by several hours. Her patience had reached its breaking point, as a nurse finally arrived to explain the delay. In walked Jim, unannounced. Behind the nurse's back, he began making crazy face after crazy face at his sister until she burst out laughing.

As a kid, Jim loved baseball cards and comic books. He grew up living with his mom in North Kingstown, but then moved in with his dad in North Providence for his last two years of high school. There, at North Providence High School, he excelled at volleyball and basketball.

After high school, he graduated from the job training program Year Up Providence with a degree in computer technology. Jim got a job mentoring for Year Up while attending Providence College, but hit by alcoholism and mental health struggles, he never graduated college. He went on to IT work for CVS corporate. Later, he would start his own moving business, Coastal Moving, with a friend in North Kingstown.

In the midst of many jobs, sports were an important constant in Jim's life. He loved his Michael Jordan flip flops and the Rocky theme song, and you would always find Jim decked out in Boston Celtics or New England Patriots gear. He had empathy for those who didn't have it easy. Starting in his mid-20s, he channeled his passion for sports into coordinating games for and coaching the Rhode Island Special Olympics. Any event they hosted, he would be there.

Jim's pride in his work with the Special Olympics was only matched by his loyalty to his family. He sported his Irish heritage, and later in life, a close-cropped red beard, as a badge of honor.

Yet Jim had a harder time being open about addiction. He was a heavy drinker which he sometimes attributed to his Irish blood. He loved Jameson Whiskey and imported beers.

Jim was diagnosed with ADHD and bipolar disorder at a young age, but it wasn't until after high school that he seriously struggled with his mental health. He began abusing Klonopin, a sedative prescribed to him for his bipolar disorder, along with the Adderall he was prescribed for ADHD.

Prescription opiates came into his life through friends, and Jim became more and more dependent on them. He denied that he had a crisis building. One day he would reach out to Jamie and ask for help, the next day, he would say he was fine. At family gatherings, he would sometimes be admonished for drinking too much or doing something embarrassing. The man who would mischievously arrive to bring cheer to his family members slipped further and further into isolation.

But Jim never backed down from supporting his family, including Jamie, who lived down the street from him in Cranston. She was in the process of recovering from an opioid addiction herself, and Jim would attend self-help meetings with her, often telling her how proud he was to be her brother. When she went on to present about her recovery at rehab clinics, Jim came to her speaking engagements and cheered her on.

On January 17, 2019, Jim Angell died at his home in Cranston after overdosing on methadone mixed with Klonopin, Adderall, and schnapps. According to Jamie, Jim's phone records showed that a woman he was seeing had given him the methadone.

At the North Providence High School baseball field, a bleacher was recently dedicated in Jim's name, paid for by Year Up Providence.

Jamie still plays basketball, for an adult league, but now, when she looks into the stands, she feels empty. Her most loyal cheerleader isn't there to cheer her on.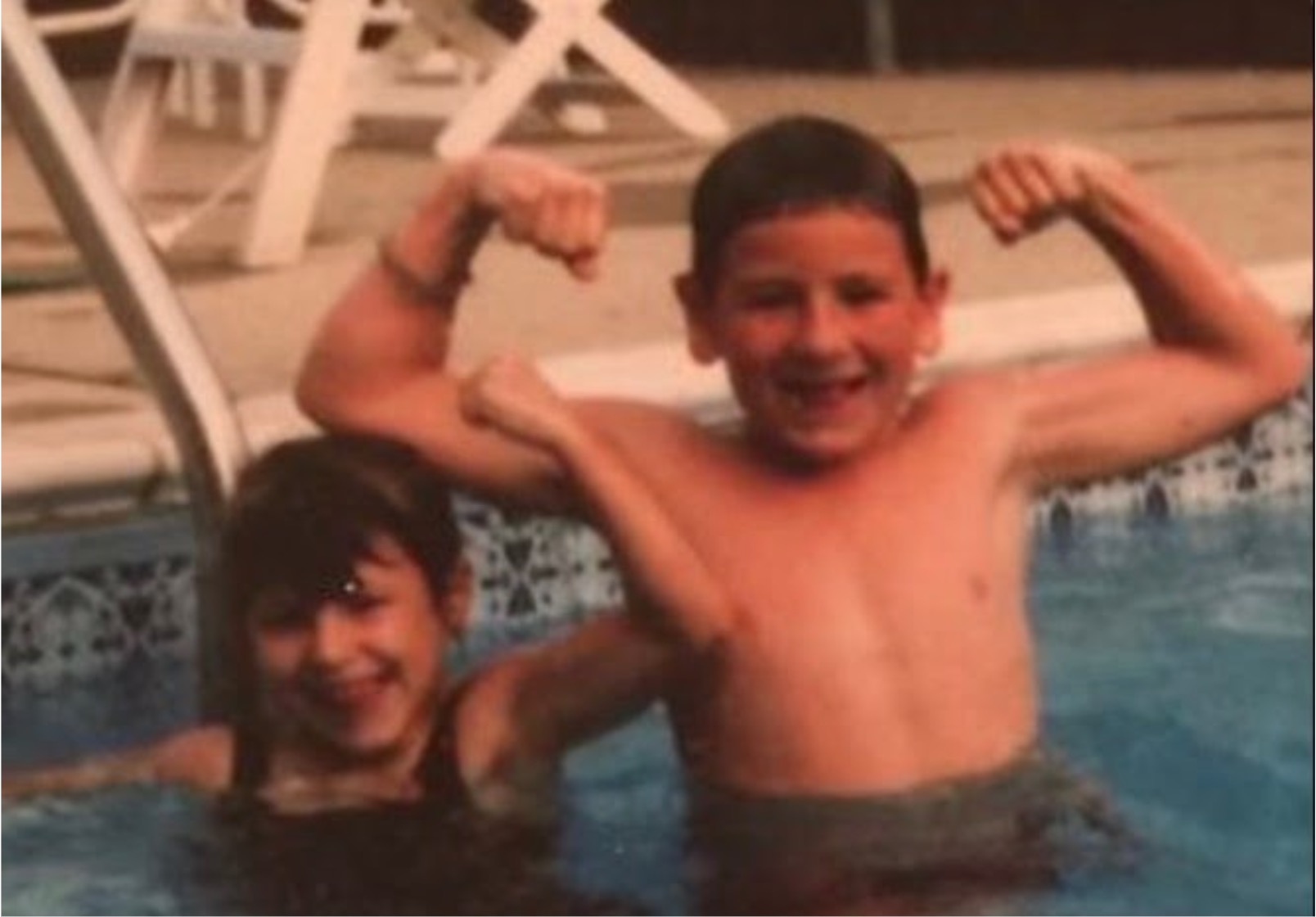 Jamie (5) and Jim (8) hit the pool in North Providence. Photo courtesy of Jamie Angell.
Throughout his battle with addiction, Jim still showed up to Jamie's adult-league basketball games. In 2017, when she hit a buzzer-beating shot to send her Cranston team to the championship, he was in the stands pumping his fist and shouting "that's my sister!"